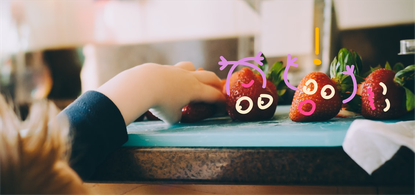 It's a common lament among parents that children will eat food at child care that they wouldn't dream of eating at home. But all this is actually a good thing, as the healthy choices they're making at child care are setting them up for lifelong healthy eating later.
Toddle spoke to Bec, the Centre Manager from Sunkids Boondall East, to get some insight into the way they teach the children positive habits around food.
As Bec shared, 'Many Centre Managers, Educators and Chefs at your child care centre have children of their own, and possess years of first-hand experience in dealing with even the fussiest of eaters.
We're always here to share our tips and advice to ensure your child's tummy is full of healthy and nutritious food.'
How important is it for a child to have healthy meals and snacks?
'Healthy lunches and snacks are extremely important for growing active children,' says Bec.
'Studies show that eating healthy foods helps children concentrate and learn. Nutrition and academic performance are linked.'
Healthy meals and snacks provide many benefits for children. They:
satisfy hunger levels
fuel the body and brain
provide important nutrients
support concentrations levels and overall academic success
'On the flip side, children who snack on sugary foods or sugary drinks can experience increased fatigue and cognitive difficulties,' explains Bec.
A healthy lunchbox at the park, or healthy food at child care will 'ensure little tummies are full of healthy and nutritious food to support their learning and daily activities,' says Bec.
'At the centre we have alternating weekly menus that change throughout the seasons. This keeps the children guessing on what's going to be on offer for mealtimes.'
Is it hard for children to transition to a lunchbox when they start school?
'The biggest temptation for children going from having scheduled meal times to then requiring them to self regulate morning tea and lunch at school is having conversations about saving some items for lunchtime,' shares Bec.
'A good way to do this is using separate compartments, chatting to them about eating the items in these two sections at morning tea, then saving these sections for lunch. 
Practice on the weekends at home, allow the children to have morning tea and lunch from their new lunchbox to understand how the process will work at school.'
Any other tips for teaching them to regulate their food at home?
'During mealtimes at Sunkids, the children are encouraged to serve themselves and others instead of being served their meals,' says Bec. 
'This helps them build self-help skills and confidence within a relaxed environment in preparation for their future school years.'
This is something that you could try at home too - serve your meals on share platters on the table and allow your children to self-select what goes on their plate.
Final tips for preparing lunchboxes that will actually get eaten?
'Get the children involved in choosing, preparing and packing their own lunch box as they are more inclined to eat if they have played a role in the process,' says Bec.
'Remember children don't want to spend time eating, make the process easy so they can go back to play as quickly as possible.'
If you need to find child care for your little one, Toddle can help. With all of the child care centres in Australia in one place, you'll be able to find the perfect centre for your family. Simply enter your postcode in the search bar at the top of the page to get started. 
---
---
Healthy food at child care sets your little one up for life