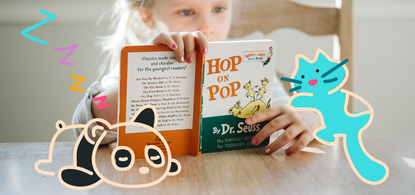 What is school readiness exactly? It's more than just counting to ten or writing their name. Being ready to start school encompasses many areas of your child's development.
The main areas we focus on when discussing school readiness are the child's social, emotional, communication, physical and cognitive skills. We will discuss each of these in more detail, as well as how you can reach out to your child's educators to help you make sense of it all.
After all, they have seen first hand how your child copes with the drop off in the mornings, their interactions with other children, their emotional regulation when things don't go their way, their concentration levels and ability to follow instructions.
The reason we focus on the term school readiness, is that a child that is considered ready to start school is more likely to have a positive experience and succeed later in life. Which is something we all want for our little people.
Is my child ready to start school?
Your child's educators can tell you which areas they will be focusing on to get your little one up to speed and ready for school. You can also help at home by focusing on these key areas of school readiness.
Social skills are determined by your child's abilities to interact with other children; how they play on their own or in small groups; using their conversation skills to direct and engage in play with others.
You'll know if your child is emotionally ready when you see how they cope with losing a game, or whether they can continue on with a task without adult supervision. Do they know the rules of the centre? Are they following instructions from the educators?
Your child's communication skills would be observed by the educators, whether they speak clearly and are understood by others, do they listen and follow instructions (such as 'It's time to put the paints away now. Can you help me pack up please?').
Is your little one independent enough to complete tasks on their own, like going to the toilet or putting their hat back in their bag? Can they use their lunchbox on their own? If your child's educator notices that this area is falling short, they may focus on games, activities and discussions to help strengthen these skills. 
An educator would look at your child's physical skills, in areas such as being able to hold a pencil correctly, manipulate toys or play dough, their balance and basic skills on the outdoor equipment. They may have picked up that your child is finding it tricky to cut with scissors, so an educator would prepare activities to encourage the right grip strength to complete a cutting task.
A child doesn't have to tick every box on the school readiness list to have a good start at school. It's a basic framework that guides teachers and parents towards the best possible outcome. It gives everyone areas to focus on.
What can I do to help?
Naturally, parents want to know what they can do to help their child get ready for school. Here are some practical tips.
Your child probably already loves you reading to them, so be sure to keep this up. Start asking questions about the text to develop their comprehension skills. See if they can recognise any special words like mum or dad within a book.
A pre-school will be able to help you form networks with other families who are attending (or thinking of attending) the same school as your child. This can be beneficial as you can encourage friendships early on so that there will be some familiar faces in the playground. Why not set up a play date to help them connect even more?
You can set up activities at home that will help with your child's fine motor skills – think beading, play dough or craft projects. 
Encourage a love of writing and drawing by giving them fun opportunities to engage, such as writing in sand, or using fun new art supplies, or using a little whiteboard and marker to write with. 
Play games with them so that they learn about turn taking (and don't always let them win!).
Try to make counting a fun experience. 'How many blue pegs are in the basket?' or 'Let's see how many green cars we can count.'
In the months prior to school starting, give your little one ample opportunity to develop independence from you. 
Wait outside the stall while they use a public toilet on their own. Let them open their own lunchbox and decide what to eat. 
Encourage them to pack their bag for pre-school and check that they have everything they need. See how they go getting themselves dressed, including buttons, zips and shoes.
Give them small jobs to do, like feeding the dog or setting the table.
Ask your educators
Often you can receive a copy of a school readiness report from your pre-school, which outlines this feedback in more detail. 
Pre-schools (and child care centres with school readiness programs) are aware of what is expected of a child in kindergarten. 
They can speak to you about whether they feel your child would benefit from another year at pre-school (if age appropriate) or what you can do at home to give them the best start at school.
You can also speak to the school you are thinking of attending, and find out about the orientation sessions there. You can send your child to those and then ask the teachers for feedback about how your child went. They can offer some great insights to parents about making the decision to start school.
---
---
How to know if your child is ready to start school next year