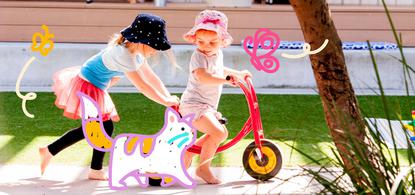 Whatever your reason for needing child care, the daily fee is always going to be a factor to consider in your decision. 
The trouble is, not all child care centres publish their fees on their website. So parents have to spend so much time ringing around to find out the fees, writing them all down in a notepad, and then losing said notepad.
Not only that, but you might also find a centre that you like the look of, call to book in and find that the days you want are not available. It's so frustrating!
This is where Toddle can help. As a free service to Australian families, Toddle has over 13,000 child care centre listings on the user-friendly website.
Toddle can show you how to find affordable child care. Type in your suburb name or postcode to bring up a list of the child care centres in your area.
From there, you can see all the centre locations on an interactive map, all of the centre's addresses, as well as their National Quality Standards rating (NQS) if available.

Open up a centre to view:
Daily fees
Availability by day and age group
Centre operating hours
What's offered, such as nappies and meals
Reviews from other parents
How many children the centre cares for
Photos of the centre
Centre location on a map
Lists of their programs and offerings
Meals and menus
Centre manager profiles
And much, much more
(Look! As well as the fees it even shows which days are available for this age group. So handy.)

Once you've found a few centres you like the look of, you can use the simple Toddle tools to: 
Email a question to the centre
Book a tour with the centre, so that you can get a feel for the place
Save the centre to your shortlist to come back to later
Share the centre listing via email, SMS or social media
Calculate your child care subsidy

Parents in Australia have been asking for this service, and Toddle are so happy to provide it.
Kate is a parent that made the most of Toddle when she moved house recently. 'I was new to the area and had no idea what child care was available,' she explains. 'I just didn't know how to find affordable child care.'
'I jumped onto Toddle after a friend recommended it, and it was all there. The hours, the prices, the availability, everything I needed. 
With a few clicks, I booked tours at two centres and ended up choosing one within days of starting the process. 
I would highly recommend Toddle to other parents who want to make the task of finding child care so much easier.'
So what are you waiting for? Use our Childcare Subsidy calculator here and then start your search for childcare in your area. 

* Note: Toddle provides information on fees from child care providers that share their fee information publicly. Some choose not to disclose their fees, but you can use the Toddle site to easily inquire with the centre about their daily fee. 
---
---
How to find affordable child care in your area