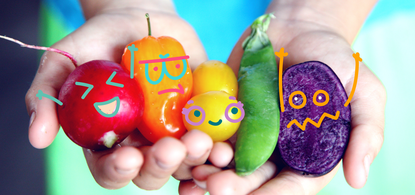 When your little one starts school, it could be the first time that they're given the chance to regulate their own food intake. 
After all, if they've been at home or child care they would have been offered regular meals and snacks at set times. 
All of a sudden they're handed their entire day's food intake at once, and they might find it a bit tricky at first while they get used to this new way of eating.
In the final months before starting school, it's a good idea to get children used to using a lunchbox on their non-childcare days. 
You can fill it in the mornings for them to dip into over the day, to get them used to deciding what to eat (and saving some for later!). Don't forget the drink bottle!
We spoke to Bec, the Centre Manager from Sunkids Boondall East, to get some advice on how best to prepare a healthy lunchbox, and lots of practical tips to make lunchboxes easier for busy parents.
What should parents look for when choosing a lunchbox?
'When it comes to lunchboxes there is a huge variety out there,' shares Bec. 'It can be overwhelming to choose the best one for your child,' shares Bec. 
These are the things Bec recommends we consider when choosing a lunchbox:
1. BPA-Free
This is a big one, the lunchbox needs to be safe to store food inside.
2. Colour
This is important to some children and can help to get them excited about using it. 
3. Seals Fresh
Lunch boxes need to seal tight to keep unwrapped food inside fresh. Most schools want you to send as little packaging as possible.
4. Insulation
If you want to send food that needs to be chilled, it's important to choose one that is insulated or can hold a freezer pack, or a small bottle of frozen water.
5. User Friendly 
Ensure your child can open and close the lunch box easily, as much as a good seal is important the children also need to be able to access the contents.
6. Ease of cleaning
Are there separate parts to wash and how easy are they to clean? Whether it is dishwasher safe or requires hand washing should play a role in your decision. 
7. Compartments
It can be handy to use lunchboxes that have lots of sections for different foods.
8. Size
This is important as it needs to fit into school bags, coolers bags or fridges. Small children also need to be able to carry them. 
9. Sustainable
Is it good quality and is it going to last?
'Bento Boxes are a great option for a child's first year of school,' shares Bec.  'These are good quality, and give children compartments to select from without the hassle of unwrapping contents.' 
What are some great options for meals and snacks to pack in a child's lunchbox?
Bec explained that the types of food that they serve up at Sunkids Boondall East would work well in a lunchbox too. 
These include:
• Veggie sticks with hummus
• Yogurt topped with berries or fruit
• Cheese stick and apple
• Tortilla chips with salsa
• Whole grain crackers with cut up veggies or fruit
• Veggie or fruit muffins made with whole grains
• Banana bread 
• Soup warmed up in the morning and put in a small thermos, with a bread roll on the side
• Fruit kebabs dipped in yogurt
• Smoothies: simply blend milk, fruit and yogurt
'Our centres share our seasonal menus with the parents, which are full of great meal ideas that are a hit with children,' shares Bec.
Preparation is the key for making lunchboxes easier
'It is important to try to avoid children becoming bored with the contents of their lunchbox,' says Bec. 'If they know what they are going to find every day when they open the lunchbox, they may decide not to bother even opening it. 
Keep children guessing "what is in my lunch today?" so they want to look inside, which in turn will spark the interest to eat the contents. Keep things colourful so that it looks appealing when they open the lid.
Being prepared is the key to ensuring healthy snack items are just as convenient as pre-packaged food items.
Cutting up veggie sticks the night before or making whole grain muffins and freezing them on the weekends ensures that a healthy option is always on hand. 
Keep fruit and vegetables washed and cut up so it is easy for children to select their own.'
---
---
An educator shares 9 things to look for when choosing a lunchbox for your child