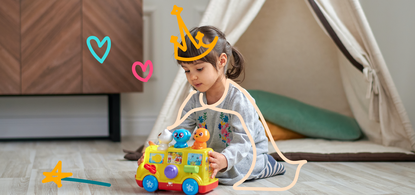 There are so many options when it comes to care for children in the year or two before they start school. 
Many parents wonder whether they should in fact move their child from a child care setting to a pre-school in the year or two before they start school.
Kate is an early years teacher with more than 15 years of experience. 'It's really up to the parents, but it's important to note that a child care centre will have a school readiness program,' she shares. 
'As a parent myself, if my child was settled at their pre-school and the hours suited me with my job, I would not move them.
The only time I would suggest moving them is if the pre-school would allow them to make connections with other children that would be starting kindergarten with them at the same school. 
Those connections are so important, especially for your oldest child. For a younger sibling I would be less inclined to move them though, as they would have been exposed to the school already, and have potentially made friends with your older child's friends and their younger siblings.'
Can I do both?
Kate suggests that parents could in fact choose to use both a child care centre and a pre-school. That's what she did. 'For me, I needed care for my twin boys while I worked three days a week in a child care centre. 
They had been offered two days per week at a pre-school right near the school they would be going to, but I needed care on that third day. So they ended up doing two days at pre-school and one day at a child care centre.
At first I worried about whether this would be unsettling for them – different places and different kids. But they were fine. Kids are very resilient, and if you explain the routine to them they usually just get on with it.' 
What is the difference between child care and pre-school?
Both options are common in Australia. The main differences between the two are as follows:
Hours
A child care centre tends to provide longer hours of care (for instance some might offer care from 7am until 6pm), which many families need. 
A pre-school tends to fall more in line with school hours, with many offering care from 8am until 3pm. For some families, this early finish means pre-school is not an option.
School holidays
Child care centres tend to operate 52 weeks of the year, where most pre-schools follow the school terms with holidays in between. 
For some families using pre-school means arranging additional care in the school holidays.
School readiness program
Pre-schools are designed to get the children ready to begin their journey into the school system. Their activities and programming reflect this, with an emphasis on writing, following instructions, group work, working autonomously and improving social skills. The focus is on getting the children socially and emotionally ready for kindergarten.
Child care centres also have a specific school readiness program for the older children too, so your child would not be missing out on this.
Age of children
Many child care centres cater for children from babies and up, with most of the rooms split into age groups. 
A pre-school on the other hand is only for children aged between 3 and 5.
A teacher's perspective
Early years teacher Carly has 11 years of experience with three and four year olds. She emphasises that the idea of moving a child to a pre-school is really is up to the parents and the individual child. 
'I believe that there isn't a one size fits all approach. I think that the quality of the early education centre (whether it be preschool or long daycare) and the individual needs of the child and family need to be taken into consideration first. 
If your child is currently in a setting where they are thriving and have developed good relationships with educators and children but you feel like their school readiness needs are not being met I would work in partnership with the centre director and educators to support this. 
Traditionally preschools offered more structure that could be seen as a great way to support children to transition into school but the frameworks guiding early childhood care and education have changed which has seen many settings move towards play based approaches and children being valued in the here and now. 
For me this has meant that the difference between long day care and preschool is no longer as apparent. Of course there are the shorter hours at pre-school and in many cases the children are bringing their own lunches. 
I can see how these aspects can support children to develop self help skills and adjust to the school routine more readily, however I don't think they are things families should be basing their decisions on. 
Early education and care is not about ensuring children know how to write or recognise letters and numbers before they start school. 
At it's fundamental level it's about sending children off to school with a thirst for learning and the confidence and skills to care for themselves, others and their belongings. 
These things can be developed in both preschool and long day care settings with good quality educators and rich learning environments.'
---
---
Should I move my child from child care to a pre-school?