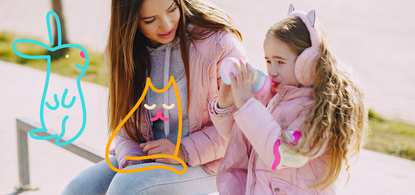 If your little one is heading off to school next year (sob!) there are a few little tips we would love to share with you to make the transition easier.
Starting school is a big step, as it means new people, a new routine, uniforms and a whole lot of listening is required.
By beginning work on the transition now, your child will be starting off on the right foot. The good news is, your child care centre does some of this work for you (thank you, amazing educators!), so you can just reinforce it.
This is what you can start working on now in the months before school starts next year.
1. Using the toilet
This is a big step for some children, so it's important to build their confidence now before they start school. 
When you are out with your child and they need to use the bathroom, practice letting them go in and use the cubicle on their own while you wait outside the door for them (ready to lend a hand if needed). 
You will have taught them everything they need to know already about how to use the toilet, including undoing buttons on trousers, how to rip off the toilet paper and so on.
This is really important because at school they won't generally have anyone to assist them. Start early so that they get very comfortable with it. Your child care centre can help you out with this.
2. Dressing themselves
As part of the above tip, it's important that a child knows how to dress and undress themselves. 
Whether it's getting ready for school in the morning, or getting their clothes back on after using the bathroom, it's essential that your little one knows how to get dressed independently (including shoes - velcro is a life saver!).
3. Using a lunchbox and drink bottle
For children that have been attending child care regularly, they may not be used to using a lunchbox as they tend to have food brought to the table to eat. 
Many child care centres encourage the children who are going to school the following year to start bringing lunchboxes in term four, to help them get used to it.
You can help on the weekends or non child care days, by packing your child's snacks and lunch in a lunch box and ensuring that they know how to open and close it (without major spills!). 
Even if you're staying home for the day, it is a great habit to get into as some children can have trouble opening and closing tubs or lids, and need to build up the strength in their hands. 
Same goes with water bottles, make sure your child can open it themselves (some of them are tricky!) and that they can use the straw or spout without covering themselves in water. 
4. Recognising their own name
Children don't need to be able to read and write before they begin school. It is helpful if they can recognise their own name though, as it will be used in many ways at school. 
For instance, they might have their name on their desk, so that they know where to sit; at first they might wear a name tag in class while the teachers learn their name, so they'll need to be able to find it; and it will help them find their lunchbox or jumper as it will have their name label on it. 
If they can write their own name, that's great too. Remember when you're teaching your little one to write their name, to use upper case letters for the first letter and then lower case for the rest (so it would read J-a-m-e-s rather than J-A-M-E-S). 
5. Following instructions
Your child care centre will have been a huge influence on your child in this regard. Most likely they'll be used to listening to instructions from their educators, and doing what they're told. 
You can practice at home too, and you can even try giving two step instructions. For instance, you might say 'Could you please pick up the blue book and put it back on the shelf next to the red book?' or 'Could you please choose a piece of fruit and then put it in your lunchbox for today?'
This will help children learn to listen to the key parts of language that inform them what they need to do next.
6. Looking after their things
When your little one starts school, you don't want to be searching through the lost property for missing hats and jumpers all the time. Start the work now to encourage them to look after their personal belongings. 
When you pick them up from child care you can ask them to check if they have everything they need (hat, jumper, drink bottle, bag, artwork etc).
When you're heading out from home, ask them to pack their own bag so that they can understand what they have with them (and what needs to come home at the end of the day).
You are probably already in the habit of writing their name on their clothes, drink bottles and jumpers - but if not try to do this now. It will help your child learn that if they lose their jumper, they can look inside on the tag to see if their name is on it. 
Your child will feel super confident about starting school if you implement some or all of these tips. You've got this!
---
---
6 things to practice with your child now if they're going to school next year