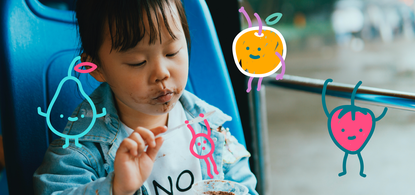 As a parent it's so wonderful to feel supported by other adults when it comes to raising children. Your little one's educators at their child care centre already do so much, there's no doubt about it.
But did you know that there are even more ways that your child care centre can help you out? All you have to do is ask!
1. Toilet training
That's right, you can ask your educators to give you a hand with this less-than-fun task. You can even ask for their advice as to whether they think your child is ready for it.
Once you make the decision, simply speak with your educator and let them know where you're up to with the toilet training. They can support your child by asking them to try to use the bathroom throughout the day, and reminding them that they don't have a nappy and will need to use the toilet if they need to go.
Your educators have done this so many times, you'll probably find them an invaluable source of support.   
2. Fussy eating
We hear from so many parents who say that their child is a fussy eater at home, who will happily tuck into a chickpea curry and spinach salad at child care. This is completely normal, and if anything it will help you expand the tastes of your child.
The child care setting, with everyone sitting together and sharing a meal, is very good at encouraging even the most stubborn eaters to try new things. 
If you are concerned about your child's eating habits you should speak with your educators who can offer some advice and tips on how to encourage new behaviours at home. In the meantime, rest easy in the knowledge that your little one is filling their boots at child care with healthy, nutritious fare.
3. Family meals
After a busy week of work, school, child care and errands, the last thing you feel like doing is cooking a family meal. 
Check with your child care centre, because these days many of the in-house chefs are offering take-home family meals for busy parents. Just heat and eat! It may be complimentary or there may be a nominal fee. 
Many of the educators are parents too, and they know just what a lifeline a home-cooked meal can be on a busy night.
4. School readiness
If you have a child born in the early months of the year, you are in the position of being able to choose whether they attend school when they are about to turn five, or wait another year at pre-school until they're about to turn six. It varies by state, but essentially it means you need to decide whether your child is ready to start school.
This can be a big decision for parents, and it's reassuring to know that you can reach out to your child care educators for support and advice. With years of experience under their belts, they are a great source of knowledge. Many centres will offer a full report, outlining the areas where your child is meeting or working towards the skills required for school.
You can also visit the school and take part in their orientation program, and then ask the teachers for their input as well. 
There's no need for you to feel that this decision rests squarely on your shoulders alone.
5. Dropping the nap 
There comes a certain point in a toddler's life (and it's different for all of them) when they no longer need their daytime nap. In fact, parents can get to the point where they'll do anything they can to avoid that nap - as it usually means their child is then up until all hours, not wanting to go to bed at night. 
For this reason, you're well within your rights to speak with your child's educators about getting some support in your decision to drop the nap.
It might mean that the educators suggest some quiet activities to your toddler, such as books or a puzzle, in the nap time period. This way they are resting without actually sleeping, which can be ideal.
It could also mean that you ask them to keep your child up if they can, but if they see that your toddler is just past it and needs to snooze then they should allow them to nap.
It's really just about opening up that discussion, and letting your educators know what the plan should be. They're more than willing to support you - many of them are parents too, they get it!
---
---
5 things you didn't know your child care centre could help you with