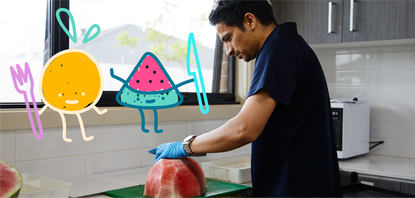 Imagine coming to collect your little one from child care after a busy day. You're tired, they're tired, and then all of a sudden your child's educator reminds you to pick up your home-cooked meal to take home and heat up for your family's dinner.
This is the reality for families at Truganina Early Learning Centre in Victoria. The in-house chef prepares meals each week for the families to take home. A night off from cooking, knowing that you're serving up something nutritious (and delicious!) is such a huge stress reliever for families.
Toddle spoke with Brooke Bowyer, the Operations Manager at Truganina Early Learning Centre to find out just how this incredible act of service came about, and what it means for the families.

How does it work?
'We've just always done it,' explains Brooke. 'Our chef shares the upcoming menus with the families to cover the next six weeks. A parent can write their name down to let us know that they would like to take home a meal.'

What sorts of meals do they receive?
'Some of our most recent family dinners have included spaghetti bolognese, tuna mornay, Mexican lamb with penne pasta, and chicken noodle soup. 
Our chef ensures that the meals tie in with what the children have had for lunch that day. So for instance he wouldn't send home pasta if they had eaten pasta for their lunch.
He also tries to prepare meals that the children have eaten and enjoyed at the centre previously, just to make it even easier for the parents to serve it up to the children.'
The chef also prepares vegetarian meals for families that need it, such as vegetarian fried rice.

Is it easy to serve up?
'The heating instructions are written on the tubs that the parents receive. It also includes information on the best before date, just in case they want to use it another night. 
Meals include the side dish too, such as pasta or rice. We want to make it a proper night off from cooking for our centre's parents.'

Are there any other amazing perks?
The good times don't stop with the amazing meals at Truganina Early Learning Centre. Families can also enjoy complimentary tea or coffee in the mornings as they drop off their children. 
'Three times a week our chef also prepares some breakfast for the parents to grab with their coffee, such as a blueberry muffin,' says Brooke. 'The parents absolutely love it on those busy mornings!'
It's easy to see why, when you've got to rush out of the centre to get to work or other errands. 
'On Fridays, we also make a little cheese box for the families. This will have some fruit, cheese and crackers for them to take home and enjoy that night to round off the week.'
What does the centre see as the main benefits of their generous offerings?
'We just want to make life easier for the families at our centre,' explains Brooke. 'We know how hard they work, and we just want to give something back to make their evenings less stressful. 
Sometimes after a busy day or week, the last thing you feel like doing when you get home is cook a healthy meal from scratch. We help to just take that pressure off.'  

Are there other centres doing this?
'I believe we are the only centre in the area that provides the meal service as a regular weekly offering,' says Brooke. 
'When parents come to tour our centre, we make sure to mention the meals to them. We get such positive feedback from them, as well as from our current parents.'

What do the parents say about it?
'We get a lot of kind comments from parents on our centre Facebook page,' says Brooke. 'They talk about how much they appreciate what we do, which just warms our hearts.'
We love this idea, and we know that it means so much for the families that are on the receiving end of such generosity. 
You can find out more about Truganina Early Learning Centre here, or search for child care centres in your area with Toddle. 
---
---
This child care centre prepares take-home meals for busy families