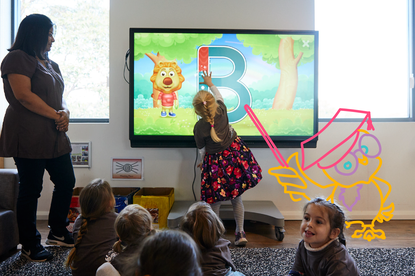 If your child is eligible to start school next year, you may have heard a lot of chat about 'school readiness' - but what does this actually mean?
Toddle spoke to Kat Wieczorek-Ghisso, an Early Childhood specialist and University Lecturer who is also the Co-Founder of Paisley Park Early Learning Centres in Australia.
Kat has over 25 years of experience within the child care sector and is keen to help parents understand that school readiness is about much more than a child being able to write their own name or count to ten.
What do you think parents understand school readiness to mean?
'Unfortunate as it is, there appears to be a firm perception by many parents that a determinant of readiness is their child's knowledge of the ABCs and 123s,' shares Kat. 
'Despite our best efforts to convince parents that 'readiness' is about more than literacy and numeracy skills, things get lost in translation,' she explains.
Kat wants to explore the notion of 'readiness' through a contemporary lens. In this interview, she explores positive strategies to embrace what can actually be a gratifying process for children, families, educators and schools.
'Despite traditional beliefs, school readiness is not about being able to read, write or count by a certain age.'
What does school readiness mean?
'Historically, the term 'school readiness' has been used in reference to children's preparedness for formal education, with the belief that up until then, children are merely playing,' says Kat.
'Previously, it was perceived that, for children, learning officially began when they commenced 'big school'.
Despite traditional beliefs, school readiness is not about being able to read, write or count by a certain age. Such learning begins at birth and becomes more advanced as children progress in their education, which may or may not be when they start school.
Thankfully, research over the years has helped to shape our current understanding that in order to succeed in any context, the school included, children need first to feel a strong sense of belonging and self-worth.' 
What else is important to focus on before school begins?
'Dispositions such as persistence, sociability and independence, are also considered to be important attributes, which all contribute to school success,' says Kat.
'At Paisley Park Early Learning Centres, we have degree-qualified Early Learning Teachers that encourage the building of these skills by providing provocations that entice the children to explore and be independent learners. 
To prepare children for school, all Early Learning Centres follow the Early Years Learning Framework (EYLF).  This covers areas such as belonging, being, becoming and learning through play.  
At Paisley Park, we have designed our own School Preparation Program that goes beyond this to incorporate the National School Syllabus.  We do this because our research with schools told us that there is still a gap.  
Our program includes the school syllabus learning areas, and we know that by aligning our program with the school curriculum, our children are better prepared for their transition. 
School readiness is a time of 'transition', a continuum not unlike any other change; an opportunity for children and their families to explore new routines, new resources and new relationships.'
What are some of the common myths relating to school readiness?
Myth 1: Transition is about children getting to know how their schools work.
Reality: Transition is a long and complex process during which children internalise the process of leaving their previous setting and establish their identity in a new setting.
Myth 2: Transition involves a series of school visits.
Reality: School visits provide a short-term orientation to school. They are helpful; however, they are only one small part of the transition.  Effective transition takes time and builds on a child's sense of belonging.  The Paisley Park School Preparation Program commences at the age of 4.
Myth 3: Transition is about children making adjustments to school.
Reality: A successful transition also depends on the school being able to adjust and respond to children.
Myth 4: Organising transition is the school's responsibility.
Reality: Planning for transition is a collaboration between many stakeholders, including schools, prior-to-school settings such as childcare and families. Paisley Park engages with local schools and families on a regular basis throughout the year prior, to ensure the transition to school is as seamless as possible.
Myth 5: Everyone experiences transition in the same way.
Reality: Transition is unique to each child; one size does not fit all.
Myth 6: Transitions involve the teaching of rules, expectations and school routines.
Reality: Children bring ways of belonging, being and becoming from their home settings. School Educators help them build on these to support participation and learning in the school setting; however, at Paisley Park, this is embedded in everyday practices as part of the program.
Myth 7: Transition activities get children ready for school.
Reality: Specific transition activities, such as lunch box preparation or school visits are helpful. However, quality Early Learning practices need to continually be building on children's learning and connecting previous and new knowledge in ways that build the skills required for lifelong learning and in a way that is meaningful for children.   
Myth 8: Transition for parents consists of a school tour and meeting with the lead teacher.
Reality: Leaders and educators focus on building an inclusive culture with processes that respond to the diversity of the community and include families as partners in transition.  This can include a school tour and meeting with the teacher, but it can also include much more.  At Paisley Park the children get involved with local schools throughout the year, visiting their library, participating in their school fete or playgroups, inviting teachers and school children to visit and engage with the children, sharing gardening, cooking or other fun experiences.  The centre hosts Schools Information nights, where families can meet their local Principal and ask questions.
What does a child look like when they're 'ready' to start school?
'UNICEF recently explored the notion of school readiness conceptually and determined three dimensions that yield more positive results when operating in tandem; ready children, ready schools and ready families,' says Kat. 
'Ready children are enthusiastic and confident about embarking on new experiences independently. 
Ready schools are those willing to bridge the gap between early childhood contexts and provide an environment where practices are consistent and philosophy complementary. 
Ready families have positive attitudes about prior learning, are vocal advocates who are actively involved in the transition process and make decisions about schooling based on a deep understanding of their children.'
How can childcare educators be more involved?
For Kat, there is another area to explore - the fourth dimension, or 'ready educators.'
'It is clear how the learning developed in prior-to- school contexts prepares children to engage with the school curriculum,' says Kat. 
'It thus makes sense to look at ways to use the structures of the school curriculum and build them into curriculum experiences in the prior to-school context. 
At Paisley Park Early Learning Centres, we have developed a School Preparation Program that includes not only the Early Years Learning Framework but also the National School Curriculum. 
This means our children are exposed to appropriate elements of the School curriculum from an early age, and these are continually being built upon up until transition to school.  At Paisley Park, our children are learning skills for life as well as for school.'
You can find out more about Paisley Park centres by clicking on the links below:
---
---
An educator busts 8 common myths about school readiness