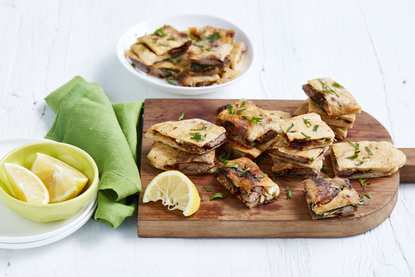 There's nothing better on a warm summer evening than a meal that you can easily cook outside on the BBQ.  The children will love this simple recipe, and it can easily be adapted to many other tasty fillings that you want to try.
This delicious recipe comes from the talented celebrity chef, Miguel Maestre. 
Miguel collaborated with the in-house chefs from Paisley Park Early Learning Centres (you can find some of their incredible centres here and here) to make a menu for the children that is nutritious, delicious and forward thinking.
We are so pleased to share this incredible recipe with you from the Paisley Park seasonal menu. It tastes even better than the gözleme you can buy at the markets (and this one is packed with veggies!).
You will need:
1 x 7g sachet instant dried yeast
1 tsp caster sugar
1 tsp salt
290ml luke-warm water
450g plain flour
2 tbsp hot paprika
80ml extra-virgin olive oil
100g baby spinach
200g feta cheese, crumbled
4 lamb fillets
Half head of cauliflower, grated
Half head of broccoli, grated
Lemon wedges (to serve)
Method
First prepare the dough, by mixing together the yeast, sugar, salt and 90ml water in a small bowl. Set to one side for 10 minutes until foamy.
In a mixing bowl, combine the flour and 1 tablespoon of paprika. Make a well in the centre and pour in the yeast mixture, olive oil and remaining water. Start to slowly mix together with a wooden spoon until a rough dough has formed. Sprinkle the bench with flour and knead the dough for 10 minutes until it feels smooth and elastic. Place dough in an oiled bowl, cover with cling film and set aside for 45 minutes until it doubles in size.
Heat your BBQ plate to high. Place the lamb in a bowl, season to taste, and add the rest of the paprika. Oil the BBQ plate and cook the lamb for 2−3 minutes, then set aside. Once cool, slice thinly and set aside. Turn the heat down to medium to cook your gözleme.
Make four balls of dough and roll each out on a floured surface into a  rectangle about 20cm x 30cm. Place the lamb on the left half of the dough, then add the crumbled feta, spinach, broccoli and cauliflower on top. Fold the other half of the dough over the top and pinch the edges with your fingers or a fork to seal.
Brush each of your gözleme with a little oil and cook on the BBQ for 3−4 minutes on each side, until golden brown. Place on a chopping board, cut into small pieces and serve with a wedge of lemon on the side.
Did you know that when you search for child care on Toddle, you can check out the centre's menu and other nutritional information? See photos, read reviews, even book a tour. Just enter your post code in the search bar at the top of the page.
---
---
Miguel Maestre shares his homemade lamb and spinach gözleme recipe