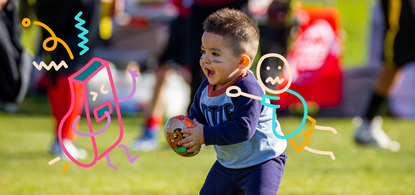 If you're going through the process of choosing a child care centre for your little one, you'll no doubt have an extensive list of requirements.
Location, fees, programs, parking, good reviews, kind educators - all of these go into the mix when it comes to choosing a child care centre that you love.
At Toddle, we've got every child care centre in Australia on our site. We make the process of choosing child care easier for parents, as you have everything you need in one place.
If you're looking for child care, be sure to visit the Toddle site where you simply enter your suburb to bring up all of the centres in your area. From there, here's what to look for to find the perfect child care for your little one.
1. Location
You may want a centre that's near home, near work, near Grandma, near the school drop off, or any other point of interest. 
With Toddle, you simply enter your suburb and from there you can browse on the interactive map to find the centres in the right location for you.
2. Fees
For the centres that share this information, the fees per day for each age group are outlined on the Toddle website. For the centres that don't share the information, you can contact the centre directly from the Toddle site and they'll be sure to let you know. 
You can also work out your Child Care Subsidy on the Toddle site, letting you know exactly what fees you will be charged based on your income.
3. Availability
It's all well and good to fall in love with a centre, but if they don't have a space for your child when you need it then it's no good having them on your shortlist. 
With Toddle, you can see at a glance whether a centre has availability for the days you need for the age of your child. Again, if the centre has not shared this information you can easily contact them through Toddle to find out.
4. Good reviews
As parents, we want to know that we are making the right decision for our children about who looks after them. Rather than a centre telling us why they're great, parents want to hear from other parents. That's where reviews come in. 
With Toddle you'll have access to many different reviews, including: 
Google reviews with both star ratings and comments
Reviews from ACECQA that let you know if a centre is hitting the targets set out by the government
Reviews that the centre has shared with Toddle, and
Reviews that Toddle recorded on video when we visited the centre. You can see an example of the Toddle videos with reviews here. 
You'll get a great overview of the centre when you combine all of these reviews with the other information provided on Toddle.
5. Programs
Each centre is unique in terms of what programs they offer. Extra-curricular activities that you can look out for include:
Sports programs: such as soccer skills, tennis or gymnastics.
Music programs: where children can try out different instruments and listen to instructions.
Mindfulness and meditation programs: children can take part in yoga sessions or meditation.
Art programs: children are given the chance to take part in activities such as painting, sculpting, pottery or woodwork.
Sustainability programs: children learn about growing food to eat, saving water, and caring for animals through the centre's vegetable garden, worm farms and composting.
Language programs: children may learn a second language such as Spanish, French or Japanese. Some centres also teach AUSLAN sign language.
Bush kinder: many centres offer some sort of outdoor nature program, where children are taken to nearby bushland or creeks to learn about building teepees, dens, making fire, identifying plants and animals, and being free to play in the great outdoors.
6. Happy children 
There's nothing better than seeing photos and videos of happy children engaged in activities at a centre. Thanks to Toddle, you can see footage such as this in our premium listings. 
Watch reviews from parents, see educators speak about their passion for their job and the value of early years education, and most of all see children busy playing at the centre.
You can see some examples of these insightful videos here. 
7. Health and nutrition
When a centre prepares all of the meals and snacks for the children, it's great to take a look at them and see what's on offer. 
Many of our premium centres include a link to a sample menu, so that you can really see the types of meals and snacks available for the children. Fresh fruit platters, cheese and crackers, homemade muffins - you'll find it all in our nutrition section.
You can see an example of a child care centre that shares their menu here. 
8. Great photos
A picture paints a thousand words, and that's why on Toddle we include as many photos as we can so that you can get a feel for the centre and imagine what it might be like for your child. 
We'll show you the outside of the centre, indoor facilities such as play and sleep areas, kitchens, eating areas, and art rooms. We'll show you the all important outdoor playgrounds and equipment, so that your child can imagine what their day might be like there. 
9. Go and see them for yourself
Once you've made your shortlist on Toddle, it takes just one click to arrange a tour at each of the centres. From there, you'll be able to use the final recommendation that we have for choosing child care - your gut feel after visiting the centre. 
Early education offers so many amazing benefits for children. Adventure awaits for your little one - find the perfect child care centre for them at Toddle.
---
---
9 things to look for when choosing a child care centre