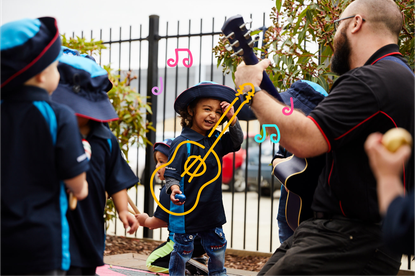 When you're choosing a child care centre, it's easy as a parent to focus on the qualifications of staff, the centre's ratings, or the feedback from
other parents. But when you sit down and ask the children what makes their child care centre great, you'll see a whole different perspective.
We asked ten children what they love the most about their child care centre.
Food
Many centres ask that children bring their lunch and snacks from home, while others provide them. Sitting down with friends to share food is a great way to encourage social skills in children.
'At my school we have yummy food for lunch. I watch the teachers make it and sometimes we eat inside and sometimes we eat outside.' Nancy, 4.
Friends
Forming friendships is a huge part of child care. Often the children will live close to each other and may end up attending the same school. Having a friend helps to reduce any anxiety relating to the drop off.

'My best friend Oliver comes here with me on the same days. We play together. I have known him since I was a baby in the hospital.' Ally, 3.
Toys
Learning through play is a cornerstone of child care centres. It allows children the space to learn social skills as they take turns, improve their communication skills as they ask questions, and provides an opportunity to discover their interests.
'There is a really cool bike there that I like playing with.' Mark, 4.
Sandpit

Sensory play is any type of play that allows children to explore with their five senses. Sandpits are popular at many child care centres as they are an open ended activity that is suitable for all ages.
'I like playing in the sandpit. We pretend it's a kitchen and we use the muffin tins to make sand cakes.' Nicole, 3.

Educator

The relationship between your child and their educator is so important as it sets them up to learn and grow. Feeling safe and secure at the centre is the first step before the children can feel confident enough to explore.
'I like my teacher the most. She reads to me and plays with me and we draw pictures of my dog.' Noah, 3.
Pets

Many centres have pets that the children can help look after, including chickens, insects, fish and lizards. For some children it's their first exposure to a pet, and educators make sure to incorporate the animals into discussions about topics such as respect, kindness, the environment or life cycles.
'We have goldfish and stick insects at my pre-school. I help the teachers feed them and look after them. I have picked names out for them.' Lila, 4.
Activities

From time to time a child care centre may bring in a special performance or activity. This might be part of the theme for the centre such as a reptile show if they have been learning about animals.
'I love it when we have a puppet show or magic show. Last time I got a sword made out of balloons!' Joey, 4.
Books
Reading is a major part of the curriculum at child care centres. Reading helps to develop children's speech and communication, their comprehension, and a love of stories.
'I like it when the teachers read books to us in the afternoon. They do funny voices to make us laugh.' Mila, 3.
Sport

Sport and movement is a regular part of child care centre's curriculum. This might come in the form of ball games, yoga, martial arts, gymnastics or tennis.
'On Tuesdays we do cosmic yoga. I am good at the tree pose, dog and spider. I am super bendy.' Jemma, 4.
Cubby house

A play house, cubby or treehouse are a popular addition to a child care centre's outdoor space. Having somewhere to create their own space to play in fosters a sense of independence in children.
'As soon as I get there I go in the cubby house. I pretend it's my home or my school or whatever I want.' Arjen, 4.
Garden

Growing herbs or vegetables is a great teaching tool for child care centres. Children love to be helpful, and to see the fruits of their labour (quite literally if the centre grows raspberries!) is so rewarding for them.
'I help the teachers plant the carrots and then we water them and pick them and eat them.' Ari, 3.
---
---
10 kids share why they love their child care centre