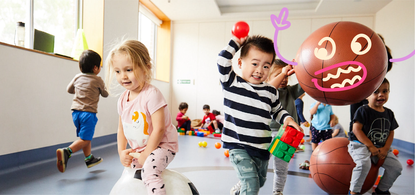 Imagine your child can walk into their child care centre which houses a gymnasium, a LEGO room, a construction room, an art room and an outdoor cafe-style eating area.  
This vision is the reality for children attending the ToBeMe centres in Sydney's inner west.
Toddle caught up with Ray Sedrak, the Communications Manager from ToBeMe Early Learning. With centres already in Five Dock and Burwood, and more centres in the works, we asked Ray what makes their centres so unique.
A gap in the industry
'At ToBeMe, we pride ourselves on being industry leaders within the early education space,' Ray explains. 'Collectively, we identified an explicit need, which doubled as a gap in the industry; we recognised that children acquiring vital life skills at such a young age, was imperative to their continued learning, later on in life.
By combining the facilitation of these skills, with the right environment, we have created a one of a kind concept.'
ToBeMe understands that they are making an impact on children just as they are  discovering who they are. Through their seven Guiding Principles of Leadership, Mateship, Courage, Compassion, Honesty, Respect, Independence and Environmental Awareness, they are trying to make the leaders of tomorrow.
Their focus is on 'inspiring a love of learning from an early age and encourages children on a lifelong journey in education that inspires, excites and fuels their imagination,' says Ray. 
A unique style of learning
Ray explains that the Educators at the ToBeMe centres try to spark a love of learning in the children in their care. 'To help children become their best selves we created small, focus-group style learning spaces throughout each campus,' explains Ray.
'This design encourages children to transition from one room to another, many times throughout the day, leaving their 'work projects' for next time. This means we are teaching children that their 'work' is meaningful and we do not need to pack it away.'
Being able to come back to a project later means that the children can extend their learning. They can work on an idea for weeks at a time, adding new elements as they discover new information.
'One of the most integral parts of learning at ToBeMe is teaching our children respect, so in turn, our Educators value and respect their work which serves to continue with their interests and curiosity in their environment,' says Ray. 
'By providing adequate timeframes, children are not rushed with their work and are able to absorb what they have learned and continue to show interest in their surroundings.'
Architecturally designed space
'Our campus-style learning spaces have been designed by award-winning architect Sarah Scott, author of Architecture for Children,' says Ray. 'Sarah has travelled the world researching and specialising in design of childcare and early learning centres.'
The outcome is carefully crafted indoor and outdoor play areas to encourage creativity, learning and social, physical and self-connections. 'The purpose-built classrooms are designed with a devotion to dramatic play, scientific exploration, and constructive and sensory play,' says Ray. 
New centres coming soon 
The two Inner West campuses in Sydney's Five Dock and Burwood are operating now, but there are more coming. 'We're very pleased to announce that we have another campus in council at present, at Baulkham Hills,' explains Ray. 
'This is our most exciting project to date as it's our first greenfield site, so it's a blank canvas,' says Ray.  'It will most certainly become Australia's leading early education facility, as we look to combine our wealth of experience and knowledge, as well as input and approval from several industry experts.'
It will be a staggered approach to opening more campuses, as ToBeMe want to  ensure that their quality standards are in place. 

Language lessons help children gain new skills
ToBeMe offer regular and ongoing lessons in Mandarin and Italian, depending on which campus your child attends. 'This builds upon their connection to learning by giving them a curiosity for knowledge and quite literally, learning how to learn,' explains Ray. 
'This improves their ability to listen, understand, connect and work with others. An important part of this connection is being aware of, and recognising, the reward in gaining new knowledge and/or practical life skills (e.g. counting from one to ten, learning how to pour tea), whilst also expanding their abilities by acquiring a new language at such a young age.'
An exclusive partnership focused on literacy and numeracy
ToBeMe have an exclusive partnership with the Teaching, Handwriting, Reading and Spelling Skills Institute (THRASS).
'In a world-first concept, we have combined forces in order to equip parents with the necessary skills to ensure the continuity of education within the home,' says Ray.
'Spelling and literacy are the cornerstone of education. If a learner cannot successfully spell words then they are less likely to succeed at formal learning. 
Research has shown that students with a more comprehensive vocabulary and a greater understanding of the meanings of words, will more successfully apply words to memory for spelling and are more competent in comprehension and writing.'
It's not just the children that are learning, the parents are too. The centres host workshops 'to take ToBeMe parents through specifically formulated competencies, to ensure that they are able to facilitate the ongoing enhancement of children's literacy skills.' This allows the parents to continue the learning process at home as well.
Giving parents back much-needed time 
Another concept unique to ToBeMe is that of giving parents back their time. 'We understand that parents can lead very busy lives,' says Ray, 'therefore we have designed our Unique ToBeMe Early Learning Curriculum to accommodate for parents just as much as children.'
In practice, this means that optional extras such as music lessons and personal training sessions are included at no extra cost. There are also in-house services such as a hairdresser, occupational therapy and speech therapy, which 'enable parents to win back their much valued time, so that they can focus on the things that truly matter.'

Leading the way in sustainability 
'In a world first, we are actually well on our way to being both completely self-sustainable with the vegetation that we grow and becoming organic certified on our Five Dock Campus Rooftop Garden!' enthuses Ray.
'We promote healthy and delicious fruits and vegetables that are hand-picked directly from our veggie garden. The children literally oversee the entire process from start to finish, otherwise known as Seed to Plate, where they'll initiate the process by planting a seed, nurturing it until it grows, cultivating the garden, picking their fruit and vegetables and assisting in the process of turning it into a delicious meal on their plates!'

Nutritionally balanced meals
The meals and snacks that the children enjoy are created by each centre's chef and are approved by the Munch and Move program. 
'We also share our herbs to our local community including parents which is one of the ways to stay connected and build partnerships,' says Ray.

Finding the right staff
Staff at ToBeMe centres are handpicked based off a number of factors, extending far beyond their qualifications and experience. 
'Each potential staff member is assessed in terms of our GAP test; Genuine, Accountable and Positive,' explains Ray.  
'We consider their character, integrity and morals, the things that make them who they are as a person and place a much higher value on these factors than simply what their resume says.
Going beyond this, we also consider their own interests outside of the workplace. You'll find many talented Educators within ToBeMe, who have interests and skills in areas such as music and instruments, dancing, sports, art, languages and so much more. This, in turn, creates a wealth of learning experiences and amazing activities for the children too.'
For the staff, there is ongoing mentorship and guidance, 'ensuring that they're able to have an incredible career path ahead of them, that also comes hand in hand with an abundance of opportunities,' says Ray.
Preparing children for primary school
Ray explains that Educators are always thinking about the next step for the children. 
'Having the centre designed like a primary school helps prepare children for primary school,' explains Ray. 'Children who begin school confidently are more likely to have more positive outcomes throughout the educational journey.'
This way, their first weeks of kindergarten will feel comfortable as they have been having these experiences for many months prior.
'In our Prep School Room, we have our children not just ready but excited to start school. 
We embed them within a typical school routine, which includes wearing school uniforms, classes from 9am-3pm, with transitions initiated by a bell, lunch box practices and even our exclusively designed workbooks, which they take home to work on and bring back once they've completed the task at hand.  
This helps our children become familiarised with the school environment, well before they're there. In turn, their transition to school is seamless.'
Click here to find out more and explore ToBeMe Five Dock
Click here to find out more and explore ToBeMe Burwood
---
---
This child care centre offers 'campus-style' learning where children learn in small focused groups