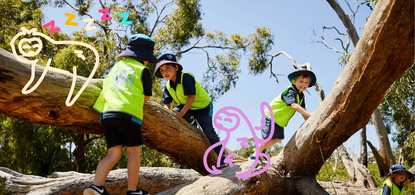 There's nothing like getting out in the great outdoors and using nature as your playground. That's the thinking behind Forest School, a project embraced by the Bluebird Early Education centres around Australia. 
Toddle spoke with Nikki Ferrari, the Centre Manager at Bluebird Early Education Cranbourne, to find out more about the Forest School program. The children at Nikki's centre have been taking part in Forest School for the past three years. 

How does Forest School work?
'Our Forest school program is conducted twice weekly for a 3 hour period, at the botanic gardens in Cranbourne.' The children have a chance to get out into the fresh air, to learn in a natural environment. 
'The children get to be outside in nature with limited (safe) boundaries,' explains Nikki, 'they can engage as they please and be free. Isn't that what all children want?'
Classes are held twice a week, with the pre-kinders going out on Mondays and the kindergarten children on Fridays. Early in the year they combine the two age groups, to give the older children the opportunity to demonstrate to and mentor the younger children.
Bluebird see their Forest School as an 'inspirational program that offers children ongoing opportunities to achieve new skills, develop confidence and increase self esteem through hands on learning in a natural environment with trees, earth and living organisms.'

What types of activities do they participate in?
When they first arrive, the Educators start with some safety games to help the children establish their physical and behavioural boundaries. 
They will then move onto fun activities that harness the relationships between children and the natural world. 
'The children have the ability to develop their knowledge about fire, with the use of fire pits, cooking, cutting branches - all safely guided by Educators,' says Nikki. 'We still allow the children to have full independence over what they want to accomplish in their Forest School journey.' 
The Educators also encourage the children to 'build teepees, sing songs, climb trees, play on the water park area in the botanic gardens, and of course just RUN!' explains Nikki.

Forest School is a selling point for the centre
'We have had some families come down to tour and enrol just from seeing us out at the botanic gardens,' explains Nikki. 'Many family member's first questions during orientation and tours is how old their children would need to be to participate.'
Families love the fact that their children are learning within nature, playing with sticks and getting their hands dirty. 'Since being the Centre Manager at Cranbourne, I've only heard amazing feedback,' says Nikki. 
'Our families beg to move their children's day to get on the Forest School program, which has led us to have to open up different days during the year to accommodate everyone.  
The children are clearly going home and explaining the fun they're having which in turn excites their whole family.'

The Educators love getting outdoors too
'Our Educators LOVE it,' enthuses Nikki. The Educator who runs the program encourages other staff members to join her where possible. 
The children are the biggest advocates for the program 
For the children, it's a chance to explore new places and try new things. Nikki asked student Henry why he likes Forest School. 'I love when I come to Forest School and I get to jump from trees - my Mummy never lets me do that at my house.' 
What are the health benefits of playing outdoors in nature?
There are five main reasons why Forest School is beneficial, Nikki explains.
Builds physically healthier children.
Contributes to cognitive and social/emotional development.
Improves sensory skills.
Increases attention span.
Happiness and better immunity.
'I'm constantly surprised about what the children have discovered and developed during the year,' says Nikki. 'Having seen this program first hand with my own child for two years now, I see so much more confidence and excitement towards being outside.'

How can we recreate this at home?
Nikki understands that this is an idea that families may want to encourage at home too.  'We offer all our families the chance to come and participate in our Forest School program so that they can re-create this themselves, as it's local.'
Bluebird Early Education centres around Australia take part in the Forest School program. Find out more about Bluebird Cranbourne or find your nearest Bluebird centre on Toddle.
---
---
Forest School encourages children to climb trees, play with sticks, and get their hands dirty