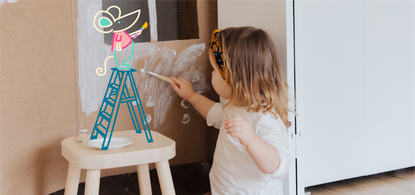 With summer holidays in full swing, you might be trying to dream up some fun holiday activities for kids. We can help!
Toddle spoke to Ali Russell, an Educational Leader for Kindalin Early Childhood Learning Centres in Australia to get some inspiration.
1. Water play 
'On hot days, water play is such a great way to cool off,' shares Ali. 'Water play provides hours of rich and valuable early childhood experiences to develop children's creativity and imagination. 
Whether it's getting busy with the hose, filling up different sized buckets or cups, mixing water with dirt, sand or bark, water play helps to develop eye-hand coordination and math and science concepts. 
It also enhances social skills and encourages cooperation. At home, don't hesitate to take buckets, cups, sifters, or empty bottles to a shaded area out in the garden or on the balcony and enjoy some pretend play. 
They are learning as well as enjoying your participation! Don't forget the sprinkler! Children will find pure joy in running through the sprinkler, and even more fun - stick it under the trampoline for some jumping, spraying fun. Of course, never leave children unattended during water play.'
2. Make ice cream in a bag
'There isn't a child who wouldn't say no to ice-cream on a hot summer day, so why not get creative and make your own!' says Ali. 
'This is a great activity that parents can easily monitor that explores scientific concepts of measurement, cause and effect and trial and error. 
Here's a guide on making your own ice-cream. All you need are 4 simple ingredients and a few basic supplies to make ice cream in a bag! That's right, you can make real homemade ice cream in a zip-lock bag.'
You will need
2 tbsp sugar
½ cup milk
½ cup cream
½ tsp vanilla extract
1 ½ tbsp chocolate syrup
1 large freezer bag
1 smaller freezer bag
Ice
½ cup rock salt
Directions
Add sugar, milk, cream, vanilla extract and chocolate syrup to the small sized freezer bag and seal tightly.
Fill the larger freezer bag halfway with ice. Sprinkle the rock salt over the ice.
Place your smaller sized bag inside the large bag and seal.
Double-check your bags to make sure they're well-sealed. Shake bags vigorously until ice cream forms. This takes around 7-10 minutes.
Enjoy!
3. Milk Carton Boats
'Take an old milk carton and cut it into the shape of a boat,' shares Ali. 'You can even paint it and stick a toothpick in it with a taped flag! 
Test it out by putting it in water in the sink or bath. Does it float? If not, children can brainstorm on how to fix it. 
Take your boats to the local creek and have a boat race!' 
4. Pathway chalk murals
'Get creative on your footpath or driveway with some bright coloured chalk and create a mural,' suggests Ali. 
'Add some water to make it wet chalk painting. This is a great opportunity to get creative and chat to neighbours on the street!
Can't think what to draw? Trace around one of the children with the chalk and then have fun colouring their clothes, face and hair.'
5. Rock Painting 
'Go for a rock hunt, find rocks of different size, shape, textures and collect them in a bucket.  
Children will have fun painting faces or designs on rocks with you and their friends. You could use these as door stoppers, paper weights, or pet rocks!
Some children also love the idea of hiding their painted rock at the park or beach for someone else to find.'
6. Backyard camping
'Set up the tent, bring your own sleeping bags and pillows and have a backyard camp out,' says Ali. 
'Sing some campfire songs, have a chat, look for bats or other night time animals with a torch. Tell some stories before sleeping under the stars. 
Why not do some stargazing? Put out a few blankets and lie down in your backyard, and gaze upon the stars and the moon. Show your kids how to locate Orion's Belt and many other stars.'
7. Set up your own outdoor pop up restaurant 
'Enjoy the warm nights and set up some cushions and blankets for your pop up restaurant,' shares Ali. 'Why not dress up the family for a fancy dinner! 
Put some dinner music on, have some nice dinner conversation and enjoy your night of gourmet grazing. 
Sometimes a different location for meals can make it that much more inviting and everyone may even eat up all their food!'
So there you have it, 7 terrific holiday activities for kids that don't require too much effort or loads of money to enjoy. Have a great summer!
If you need to start thinking about child care for your little one, let Toddle help. With all of Australia's child care centres in the one place, Toddle is your one stop shop. Start by entering your postcode in the search bar at the top of the page. Read reviews, see the programs on offer, check availability and more - with Toddle.
---
---
7 old fashioned fun holiday activities for kids this summer