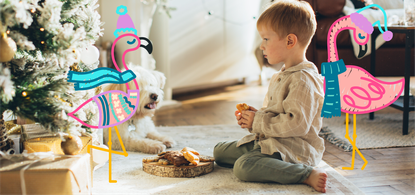 With the festive season well and truly in full swing, you might be looking for ideas for the children for your Christmas party. Keeping young ones entertained during a get-together doesn't need to be difficult or require special equipment. 
Toddle spoke to Belinda Gollan, the Centre Manager from Little Giants Killara as well Sarah Gaunt, the Assistant Centre Manager from Bluebird Early Learning Centre Roseville. They suggested that the following games that are often played in child care centres could be a great start for you to use at home with your family.
1. Snowman Bowling
How to play: Collect some boxes that are all the same size, like tissue boxes or packing boxes. Paint them like a snowman and add a paper hat and nose, painted features and some other accessories. Grab a ball and you're ready to bowl! The children will have fun putting it together, and it will aid in recycling some of that holiday packaging.
Benefits of the game: Children are learning how to create their own resources for fun. The coordinated movement of bowling is one that is mastered with practice. Using boxes means this can be rebuilt time and time again. After all, practice makes perfect!
2. Pin the nose on Rudolph
How to play: This game can provide hours of entertainment. Paint a reindeer face onto a piece of cardboard (this can be made by dismantling a cardboard box). Make circles out of red paper and take turns at being blindfolded and seeing who can get their red nose stuck onto the reindeer to make it look like Rudolph.
Benefits of the game: This game is a lot of fun, children engage well with it. There is a humorous element to it as they take off the blind fold to see the outcome of their efforts. Taking turns and cheering each other on is another great benefit.
3. Scavenger Hunt
How to play: You can get as creative as you like with the scavenger hunt. Make a list of things to find, the children can help with this. The adventure of finding something red, something that lights up, covered in glitter or Santa likes to eat is all part of the fun! 
Benefits of the game: Children can extend on their literacy as they follow a list of items to locate. The list can be written with text or with pictures depending on the age of the children. Comprehension and imagination are also key to the success of this game.
4. Reindeer Ring Toss
How to play: Bringing the traditional ring toss from the backyard to enjoy anywhere, this reindeer game will surely do the trick. Enlist the help of children to find V shaped sticks to use for antlers which can be set up by inserting the pointy end into the top of a recycled box to look like a reindeer. Next paint the face of a reindeer to complete the look. You can then make the rings by twisting pipe-cleaners together and take turns trying to get them onto the antlers.
Benefits of the game: Finding ways to bring nature indoors. Creativity and imagination in bringing everyday items together to create something that resembles a reindeer. Co-ordination for twisting the pipe cleaners to make rings as well as tossing them to land on the antlers. Sharing a sense of achievement and celebrating shared successes are also benefits to this game.
5. What's in Santa's Hat?
How to play: Collect some everyday items around the house that are small enough to fit inside a Santa Hat or Christmas Stocking. Take turns to hide an item and then provide clues for the children to guess what is inside!
Benefits of the game: Use of memory recall, imagination and comprehending the clues provided to guess what's in the Santa Hat.
6. Musical Christmas chairs
How to play: Decorate some chairs with ribbon, tinsel or Christmas paper. Count the children and ensure there is one less chair than children. Play some music while they dance around in a circle around the chairs, and then when the music stops they have to sit down. Keep going until there are only two children left, and the last one to find the seat is the winner.
Benefits of the game: A fun game of socialisation and spatial awareness, with simple instructions to follow.
7. Disco dancing 
How to play: Children love to dance, so get those Christmas tunes on and let them have a boogie. Turn it into a game by suggesting a prize for the best dancer, the highest kicks, or the silliest moves. 
Benefits of the game: the children can practice their gross motor skills, as well as develop their rhythm and coordination.
8. Gift stacker
How to play: Collect boxes of different shapes and sizes, and paint them or decorate them if you like. Make two or more teams, and ask each team to try and get the highest stack of presents without them falling over.
Benefits of the game: this game brings a sense of fun and excitement, while sparking curiosity. Children also learn about turn taking and competition.
9. Christmas cooking class
How to play: lead the children in a cooking demonstration. This might be decorating biscuits or making some pizzas using Christmas coloured ingredients.
Benefits of the game: use cooking to introduce the children to mathematical concepts such as measurement and counting.
10. Writing letters to Santa
How to play: pull out lots of crayons, glitter glue and cardboard and let the children decorate their own letters for Santa. They can get your help to write on it if they choose to.
Benefits of the game: this activity will introduce children to literacy and develop their pre-writing skills.
Find out more about Little Giants Killara or Bluebird Early Learning Centre Roseville.  Or if you are looking for child care in your area, simply type your postcode in the search bar at the top of the page.
---
---
10 Christmas party ideas for kids