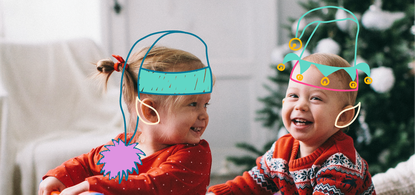 It's that time of year when parents start to think about Christmas gifts and thank you cards for the tireless educators at their children's child care centres.
After the year we've all had, it makes sense that you would want to make a small gesture of thanks to the people that are often like a second family. 
Choosing a Christmas gift for child care providers can be tricky, so Toddle spoke to the wonderful educators at ToBeMe Early Learning Five Dock and ToBeMe Early Learning Burwood to find out exactly what they'd love to receive (and everything is under $20).
1. A nice coffee mug
Educators need all the tea and coffee they can get to keep up with the little ones! A nice mug is always going to be a welcome gift.
2. Scented candles
Chilling out after a hard day of work is made even more relaxing with the beautiful scent of a candle nearby.
3. Stationery
The educators said they like being given nice pens, notebooks, or diaries by the children in their care. This way they can think of them whenever they use them.
4. Chocolates
You can't go past the humble box of chocolates for your little one's teachers. Something they can enjoy with a cuppa on the weekend - perfect.
5. Gift Vouchers
Is there a nice cafe nearby where the educator might like to grab a coffee? Or a nursery where they might grab a potted plant? Why not consider a voucher so that they can choose their own option.
6. Travel cups
For the eco-conscious educator, a reusable coffee cup or water bottle is a nice option and there are so many gorgeous colours and patterns available.
7. Reed diffusers
The educators love the fresh scents of these diffusers, and they make a nice gift as they often come in a cute box.
8. Books
If you know your educator is into bird watching, cooking, or a good murder mystery - why not consider a gift wrapped book from the local book shop? Not sure what to get? Grab a book voucher and they can choose something they love.
9. Bath salts
Anything that smells good that will help your educator relax in the tub is going to be very popular. Bath bombs, bath salts, or essential oils are all great options.
10. Beauty products
Whether that's a nice hand cream, body moisturiser or one of those cute bottles of nice smelling hand sanitiser - your educator will know that you appreciate everything they do for your family.
Of course it's not all about gifts at Christmas time. The thing that most educators love the most? A handmade card and a big THANK YOU!
Click here if you'd like to find out more about ToBeMe Early Learning Five Dock and ToBeMe Early Learning Burwood. Or to find child care near you, just enter your postcode in the search bar at the top of the page.
---
---
10 Christmas gifts under $20 your child care providers would love (according to an educator)