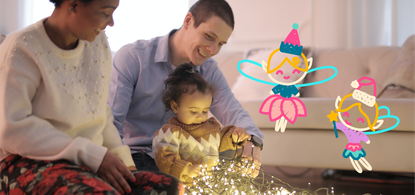 'Tis the season for Christmas craft! If your little one likes to be busy, making your own decorations and Christmas craft at home is a great way to keep them entertained.
But instead of spending a fortune on craft packs or special kits, you can make the most of what you already have on hand.
Toddle spoke to the wonderful educators at ToBeMe Early Learning Five Dock and ToBeMe Early Learning Burwood to get some Christmas craft ideas for parents at this busy time of year.
1. Santa's chimney
Time to collect all those boxes from the recycle bin. Why not try and make a chimney for Santa, by taping boxes together and painting them? Or make a letterbox where you can send and receive messages from Santa!
2. Something tasty 
Children love to bake Christmas cookies and decorate them with icing or sweets. Or why not work together on a bigger project such as a gingerbread house? These types of activities are fantastic for a child's fine motor skills, and everyone gets to enjoy the results at the end.
3. Glitter and glue 
If you can handle glitter in the house (and on the floor…), get the craft table out and decorate some Christmas baubles or make your own photo frames for the family. A homemade gift is always so special for relatives and friends, and can easily fill an afternoon when it's too hot to go and play outside.
4. Christmas sewing
You can often find Christmas stockings or Santa hats at bargain shops, which you can then add your own personal touch to. Grab the glitter glue and tinsel and go wild! Or why not make place cards for family members for the Christmas table?
5. Pencils and crayons
You can't beat a lovely afternoon of writing letters to Santa or making Christmas cards to send to family and friends. Why not make some for your neighbours too? The children will get a kick out of being the postman when they send the letters through.
Christmas craft for kids doesn't need to be expensive or difficult, as these ideas prove. The main things that your child will enjoy are spending time with you and thinking about the fun of the festive season.
Check out the links here if you'd like to find out more about ToBeMe Early Learning Five Dock and ToBeMe Early Learning Burwood. Or to find child care near you, just enter your postcode in the search bar at the top of the page.
---
---
An educator shares five EASY Christmas craft ideas for kids