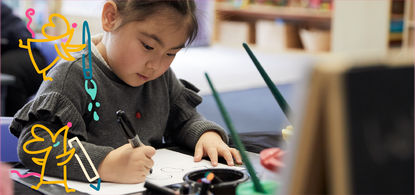 Children naturally gravitate towards the arts, whether that's painting, playing imaginary games, or dancing along to music. Child care centres understand this and support it within their programming, as they know there are numerous benefits for children.
Toddle spoke to Larissa Green, Centre Director of Kindalin Kellyville Ridge to find out how the arts is encouraged for little ones at her centre in Sydney, and how parents can help facilitate it at home. 
How does your centre support and encourage the arts?
'At Kindalin, the arts include everything from drawing, painting and clay building to dancing, drama, music and movement!' shares Larissa.
'Art is not about colouring in between the lines. Art is about expressing individuality, creativity and imagination.
Exploring the arts in early childhood learning allows your child to express themselves through their own creativity and imagination, promoting active exploratory learning,' she shares.
'Educators provide children with open art experiences where they are supported to express themselves and create their own interpretations,' explains Larissa. 
'It might be how they depict themselves in a self-portrait or what dance moves they choose to move to the music.'
'Every child is an artist. The problem is how to remain an artist once we grow up.' - Pablo Picasso
What are the benefits for children of exploring the arts?
Larissa explains that there are five main benefits.
Develops the muscles to master their fine motor skills
Allows them to express themselves in their own way, through artistic self-expression
Increases their knowledge of art concepts such as lines, shapes, colours and textures
Promotes a child's imagination and creativity
Stimulates both sides of a child's brain and facilitates brain development.
How can a parent promote their child's exploration of the arts?
'Whether your child is exploring music, experimenting with paint or sculpting with playdough, it is important that you allow the activity to be an open-ended experience,' says Larissa.
'Open-ended experiences allow your child to learn, explore and express themselves using their own creativity and imaginations.'
'At Kindalin, your child's creations often begin with a blank canvas,' explains Larissa. 
'Educators have discussions with the children around the table about topics they have been learning about, which promotes the children's active thinking, stimulating their minds and creativity. Parents can do this at home too.'
What are some ideas for visual arts activities that parents can try at home?
Larissa has four key ideas that are perfect for parents to try out at home. 
Drawing: using textas, pencils, charcoal, crayons to depict a scene, an idea, or even a self-portrait
Painting: using water paint, poster paint, wet chalk, paint made from natural materials, either on paper, a canvas, on concrete, or some cardboard
Playdough or clay: to create animals, people, or even pretend cakes
Making collages: using newspaper, magazines, or old birthday cards.
What can parents do to support a child during these activities?
'The most important one is to ensure it is an open-ended experience where your child can explore and express themselves,' says Larissa. 
'Make sure you engage in meaningful discussions about their activity too, using descriptive words such as 'I can see you are creating giant blue circles on your page, can you tell me about those?
Join in on the activity with your child, they love it when their parents interact with them and share the experience. 
Be proud of their efforts and achievements. Showcase their artwork to build on their self-esteem - by putting it on the fridge, on the wall, or even in a frame,' she says.
You can read more about Kindalin Kellyville Ridge here, or find child care for your little one with Toddle by entering your postcode in the search box at the top of the page. 
---
---
How this child care centre encourages a love of the arts