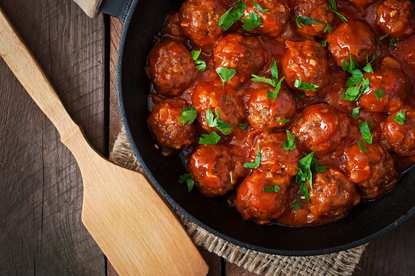 When the weather is cool, it's nice to tuck into a delicious hot family meal. This recipe comes from the chef at Greenwood Gladesville, who knows a thing or two about cooking for children.
Why not get your children to help you roll the meatballs and place them in the dish? This is a great recipe to cook a double batch and freeze half to enjoy another night.  
Packed with vegetables and tummy-filling rice, these meatballs are sure to be a hit with the whole family.
We love sharing recipes with you from child care centre chefs like this one from Greenwood Gladesville - they've had years of experience cooking for little ones. They know what children love to eat!
Ingredients
500g lean beef mince
1 small onion, chopped
1 zucchini, grated and squeezed to remove liquid
1 carrot, grated
1 egg
2 tbsp minced garlic
500ml condensed tomato soup, salt reduced
1 tbsp Worcestershire Sauce
500ml water
150g white medium grain rice, uncooked
Olive oil spray
Steamed vegetables, to serve
Method
Spray an ovenproof dish with olive oil spray and preheat the oven to 180C.
In a large mixing bowl, place the mince, half of the onion, zucchini, carrot, egg, garlic, and rice together. Mix well with a wooden spoon, and then use wet hands to roll the mixture into approximately 10 meatballs. Place into the prepared dish.
In another bowl or jug, mix the tomato soup, Worcestershire sauce, water and the rest of the onion. Mix well and then pour over the meatballs to cover.
Cover and bake for 40 minutes or until the rice is tender and the meatballs are cooked through.
Serve with steamed vegetables of your choice.
Find out more about Greenwood Gladesville here, or find care in your area by entering your suburb name at the top of the page.
---
---
A child care chef shares the recipe for child-friendly Porcupine Meatballs