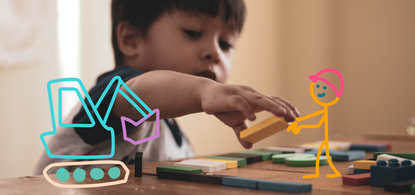 Whether you're looking for Christmas gifts for your children, friends or relatives it's nice to know there are some gifts that last the test of time.

These are the gifts that children come back to time and time again, the ones they want to take when they go on holidays, and the ones that get passed down when they grow out of them.

Christmas gifts for children don't need to be expensive, but a well thought out present is always going to put a smile on their face (and yours).

1. Construction toys
You really can't go past a set of wooden blocks, LEGO or Duplo. These can be easily stored to allow easy access and you'll find that your children will play with these for many years. Blocks and construction toys are great for building your child's fine motor skills, but they also require a lot of imagination which is terrific for your little one's development. 

2. Puzzles
There are puzzles galore for every age and interest. You can go for a custom style with their name, or a specific subject matter such as animals or the alphabet, or find a puzzle relating to a book or character that they love. A great activity for a rainy day or when your child just needs a little quiet time. 
3. Board games
Learning to take turns and be a good sport are skills that all children need to learn. Games such as snakes and ladders, Trouble, Connect 4 or Guess Who are great fun for all ages and can be a learning opportunity for younger players. They also teach children about the value of looking after your things, as there's nothing worse than finding out you're missing an important piece when you next go to play it. 

4. Art supplies
Arts and crafts never go out of style, so whether it's a paint set, brushes, play dough, sketch books or some lovely pencils most kids will be more than happy to receive it. There are also some lovely craft packs that you can buy to suit different ages and interests.

5. Cars, trucks and trains
Little ones are often fans of wheels, so why not indulge them in a Tonka truck for some construction play, some Matchbox cars for handheld fun and games, or even a train set? These will provide hours of fun and are great toys that can be taken in a backpack or pocket for a day out.

6. Sand and water play toys
A good old fashioned bucket and spade is always going to be popular, some new swimmers, goggles, a pool float or a boogie board are also great options. Sensory play such as sand and water play is terrific for children's development (read more on sensory play here). You don't need to live near the beach to enjoy it either, with many happy children enjoying a splash under the sprinkler or in a bucket of soapy water.

7. Books
Children and books are a perfect match, and there are so many beautiful options that make an ideal gift. Can you find a book that you loved as a child, a book with the child's name in it, a classic story like the Gruffalo that make a perfect bedtime story, or a series of books like Peter Rabbit that they can start collecting? Read more about a child care educator's recommendation for the best books for toddlers here.
8. Bikes, scooters and balls
Sports equipment or something to ride on is another popular option, whether that's a trike, bike, scooter, skateboard or pogo stick! (It goes without saying that a helmet will also be an essential part of this present). It's also a great option to get a ball for little ones to learn to play catch or kick. 

9. Pyjamas
Children spend a good chunk of time in their PJ's so why not treat them to something really cute and comfortable? It might be a classic look, something old fashioned or themed with their favourite characters. Christmas pyjamas always make for a great photo on the day too (why not give them on Christmas Eve so they can sleep in them!).
10. Season passes or tickets 
Whether it's an aquatic centre, museum, kids play space or theme park you really can't beat tickets or membership to something special. Children love an outing and this way they can go more often and think of you each time they do. This is a great option if you want your children to enjoy more experiences rather than having more things. Bonus points if there is a cafe for the adults there too! 

If you need ideas for Christmas gifts for child care educators, check out our list here. Need some Christmas games to play at your next get-together, we can help.

Do you need to start thinking about child care for next year? Let Toddle help! Simply enter your postcode in the search box at the top of the page to find care near you. Read reviews, see photos, check out the menu and even book a tour with Toddle.
---
---
10 timeless Christmas gifts for children