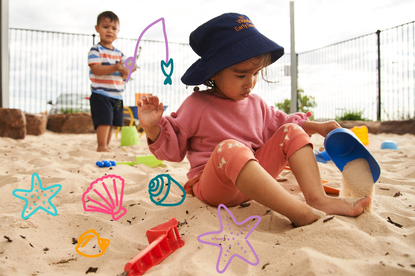 With not one, not two, but four sandpits on-site, this child care centre at Aintree in Victoria understands the benefits of sand play for little ones.
Toddle spoke to Rachael Downing, the Centre Manager at Woodlea Early Education in Aintree to find out more about why sandpits are such a hit with children.
How popular are the sandpits at your centre?
'We are very lucky to have four large sandpit areas throughout our centre so that all age groups get to explore them,' explains Rachael. 
'We find children love spending time in there digging and building sandcastles. We often see a lot of imaginative play in the sandpits, it's great watching their imaginations run wild.'
What are some of the benefits of play in sandpits?
'The sandpit helps to promote physical development,' shares Rachael, 'it can guide children's large muscle skills as children dig, pour, sift, scoop, and assist to clean up spills with a brush and dustpan.
It can also promote eye-hand coordination as they pick the sand up with a shovel and concentrate on placing it into the bucket.'
Is sand play a good sensory experience for all ages?
'Yes, we believe sand is a great sensory experience for children of all ages to explore,' says Rachael. 
'It is even great for babies, although it is always something that needs to be closely supervised to ensure they are not putting it in their mouth.'
'Sand is a great sensory experience for children of all ages to explore.'Can children learn to share by playing with others in the sandpit?
'Yes, there are endless opportunities for children to share items within the sandpit,' says Rachael.  'They can also build on their social skills with their peers.'
How do educators extend on the children's sand play?
'There are many things that can be created from the basic sand play,' explains Rachael. 
There are so many great opportunities for extensions such as:
Cooking, using real kitchen utensils and trays for pretend baking
Art, such as adding leaves or sticks to their creations
Science experiences, such as making volcanoes in the sand
Animal experiences, such as adding figurines to play with
Moats can be built for children to experience the cause and effect of water
How can parents create some sand play at home?
'A large plastic tub is always a great portable option to add a little sand to, this will keep them busy,' shares Rachael. 'Children also often quite enjoy playing with kinetic sand at home.
Adding sand to paint or playdough for a sensory experience is another great activity to do at home,' shares Rachael. 
You can read more about Woodlea Early Education here, or find child care for your little one by searching for your postcode at the top of the page.
---
---
Sandpits offer a hands-on experience for children's learning