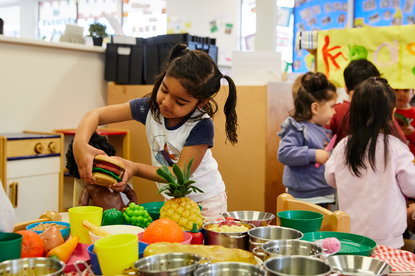 Whether you call it flow, getting in the zone, or being in the moment, allowing your child to be fully immersed in play is hugely beneficial for their development.
Toddle spoke to Courtney Wharton, Centre Manager from Kindalin Castle Hill to find out more about how child care centres help get children into the state of flow, the benefits, and how parents can do the same at home.
'Indoor play at Kindalin is about providing a positive and nurturing environment,' shares Courtney.  'It caters to the whole child, values diversity and views children as active, competent and capable learners.'
How is 'flow' encouraged in a child care setting?
'Educators provide children with opportunities to explore and engage in a variety of learning experiences,' explains Courtney. 
'We allow the children to move through experiences of their choice and in their own time, which we know as 'flow'. We believe children learn through active explorations.
Our indoor play area is broken up into a few main learning centres including a construction area, drawing/writing centre, home corner and book corner. 
These different areas allow the children to actively explore their own interests and encompasses the Kindalin 5 Key Learning Areas of arts, social, mathematics, literacy and science,' she shares.
Why is flow and indoor play at home important?
'Creating a 'flow' of activities for indoor play gives your child independence in making decisions on what they want to explore,' explains Courtney. 'Your child is more likely to learn from an experience they are engaged and interested in.'
How can parents introduce 'flow' at home?
'Rather than focus on one particular activity or experience at one time, setting up 2-4 experiences within the home that your child can choose from gives them the opportunity to actively explore,' shares Courtney.
Courtney's ideas for main learning centres at home:
Dramatic play area: dress ups, 'home corner' with kitchenware, toys for imaginative play i.e. dinosaurs and dolls.
Drawing and writing area: have paper and stationery set up with crayons and pencils.
Construction area: an area with building blocks, boxes, puzzle pieces or natural items they can use to build/create.
Reading area: a cosy area set up with their favourite books.
'While your child explores these experiences, you can promote their learning with your own active engagement,' explains Courtney. 
'Again, we encourage intentional teaching; providing your child worthwhile interactions and challenging experiences that foster high-level thinking.'
What are some examples of intentional teaching?
Role modelling inquiry processes, asking questions that promote wonder and curiosity.
Being engaged with your child, show interest in their activity and be at their level.
Expanding on your child's thoughts, suggestions and questions.
Promoting mathematical or scientific language during activities such as
construction.
Being creative when engaging in dramatic play and reading.
'We have seen children's development flourish through 'flow' as they learn more about their own individuality, gain independence and actively explore their own interests with their Educators,' shares Courtney.
Find out more about Kindalin Castle Hill, view photos and videos, read reviews, explore the programs and menu - or book a tour! 
If you need child care for your little one, Toddle can help! Just enter your postcode in the search box at the top of the page to get started.
---
---
How parents can encourage 'flow' in their child's play