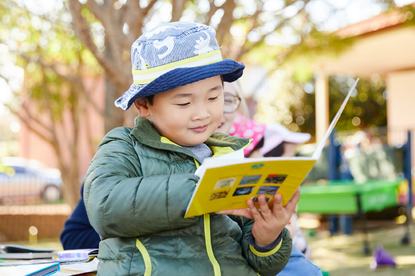 Children are exposed to language from the moment of conception. At child care, language and literacy form a huge part of the curriculum, with educators finding new and innovative ways to encourage children to fall in love with words.
Toddle spoke with Michelle Oake, Centre Manager at Kindalin Cherrybrook Shops, to find out more about how her centre helps to develop children's language and literacy skills.
How are language skills developed in children?
'Children develop their expressive and receptive language skills through their daily interactions with adults and other children,' explains Michelle.
'This includes practising turn-taking in conversations, joining in puppet play, participating in group time, learning songs and listening to stories.
Children gain an understanding of the different elements of stories such as: listening to stories, retelling stories through drama and making up their own stories,' she shared.
'An understanding of literacy practices emerges via talking, listening and expressing themselves creatively.'
How can parents support their child's language and literacy? 
'Storytime is a great activity to incorporate into your home routine, if you don't do this already,' says Michelle. 
'It has just as many benefits for adults, as it is a special time with your child that promotes connection and strengthens relationships. It is something children will remember as part of their childhood many years later,' she explains.
'Children are made readers on the laps of their parents' - Emilie Buchwald
Reading with your child
'Book sharing is a fundamental way to promote language and literacy with your child, and can be adapted to any age group,' says Michelle.
'Start with a positive attitude to books, and a great imagination! Be a great story-teller, a role model for using language, and teach children how to care for a book,' she explains.
Book sharing tips from Michelle
When reading to your child, start with the front page, read the blurb and ask questions to promote thinking/predictions such as "What do you think this book might be about?"
Use your finger to trace words and point to pictures – this shows your child we read from left to right and promotes connections and understandings that words have meaning.
Involve your child and talk about what you can see in the book.
Explore vocabulary through questions such as "What do you think .... means?"
How does book sharing promote language and literacy?
'It supports your child's receptive and expressive language skills,' says Michelle. 
'Reading sparks your child's imagination and stimulates their curiosity and creativity. Reading also fosters your child's brain function, developing social skills and communication skills,' she shares.
Exploring art and writing
'Art and writing is a great way to promote your child's language and literacy,' explains Michelle. 'By providing children with an enriched literacy environment, it promotes their curiosity and interest in letters/words.
It encourages them to build a deeper understanding of literacy and that words have meaning, and helps to promote letter recognition and expressive language.
It helps children to develop an understanding of literacy concepts such as print, text conventions, phonemic awareness and letter-sound relationships.'
Any art materials will do, start with some paper and pencils or crayons.
Art and writing tips from Michelle
Provide an open-ended experience that is led by your child – ask them what they would like to draw and then provide them with words that match their drawing. "I can see you've drawn a beautiful sun, why don't you try and write the word?"
Talk to your child about the shape of the letters and sounds the letters make.
Ensure you don't pressure your child to write – you want them to build an interest in literacy and for it to be a positive learning experience.
Enjoy the quality one-on-one time when reading with your child and let your imaginations run wild!
Find out more about Kindalin Cherrybrook Shops, view photos and videos, read reviews, explore the programs and menu - or book a tour! 
If you need child care for your little one, Toddle can help! Just enter your postcode in the search box at the top of the page.
---
---
How to develop your child's language and literacy skills