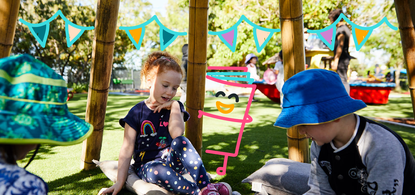 Rather than teaching everything that they think children need to know, child care centres are giving children the chance to decide what's important.
By listening to children, and learning about their interests, child care centres like Kindalin Glenhaven have found that the outcomes are much more positive.
Toddle spoke to Melissa Laverty, Director of Kindalin Glenhaven, to find out more about child-led programming in her child care centre.
'At Kindalin, we value the voice of the children,' explains Melissa. 'We listen and observe the children throughout the day and the week, and filter out their interests, questions and needs. 
From there we devise a program or curriculum plan that encompasses these. The Educators act as co-constructors or facilitators of the children's learning.'
Finding the children's interests
The Educators find out the children's interests in three main ways, says Melissa.
'Meaningful conversations with the children, showing them that we are interested in what they have to say.'
'Unbiased observation of the children,' and
'Feedback from the parents.'
What does it mean to allow the children to direct the programming?
'The children's interests, needs and strengths are at the core or the base of the program,' explains Melissa. 
'Based on the observations or information gathered, Educators will incorporate the program with the help of the children. Being child-led, the program is easily assimilated by the children. 
Some interests are short-lived whereas some are constant and the children simultaneously revisit and revise or perfect their acquired skills,' she says.
What are the benefits of child-led learning?
'Learning through play allows the children to develop their sense of agency and identity as the children are free to choose where they want to play and what resources they want to use,' says Melissa. 
'It also nurtures their imagination and creativity. The children take ownership of their learning. When children are in charge of their learning and we follow their ideas, the learning experiences they come up with are often ones we didn't originally think of.' 
'The learning experiences they come up with are often ones we didn't originally think of.'
The children tend to be more involved and show greater concentration when they have chosen the topic, and they don't feel as though they're under pressure, Melissa explains.
'When a child is interested in something, they ask lots of questions and seek all the possible answers to their questions,' she says. 'This results in learning on multiple levels. 
They have time to explore, investigate, and experiment. They figure things out for themselves and, in turn, grasp a deeper understanding of the topic.'
What does child-led programming look like?
Melissa shares three scenarios that explain what child-led programming could look like at her centre, and the outcomes achieved.
'Constructions with blocks and loose parts: the children have learned about cause and effect, engineering skills, maths, language and social skills through conversations with their friends. 
Dramatic play: children take on different roles, reproducing what they have observed or witnessed prior. Children might be in the home corner, cooking a meal or being the teacher leading group time. Here they have learned social skills, language, and fostering a sense of identity.
Project-based: as an example, a child may show an interest in bugs. They could learn about the life cycle of a caterpillar by going through the garden looking for eggs on the leaves, reading books on the subject with an educator, drawing the different phases.'
What equipment do you need to facilitate child-led programming?
Melissa explains that the best resources to use are open-ended, as this means that the outcome is limitless and unpredictable. 
'Educators need to be attentive and responsive to the children's interests and not dismiss ideas such as messy play as a part of their learning, for instance if they thought it will be too hard to clean,' she shares. 
'An interest may take a few days to explore or it could take a whole year to explore,' Melissa says. 'It all depends on the child.'
Creating a love of learning 
For Melissa, this type of programming can ignite a passion in the child, as they actively want to know more.
'When you give a child the freedom to choose what they want to learn and how to learn by means of resources, they begin to enjoy learning,' says Melissa. 
'There is no frustration or a sense of pressure to learn.  Children are born with the innate responsibility to learn and be curious.' 
'One small interest can ignite multiple learning opportunities.'
How can parents implement this at home?
Melissa shares that the one thing parents should do is be open and listen to what their child is saying. 'Giving children the gift of time is the best way to facilitate this at home,' she shares. 
'Genuinely listening to the children without rushing or dismissing what they are saying or thinking as irrelevant. Using open ended-resources and questioning,' she says.
You can read more about Kindalin Glenhaven or find child care in your area with Toddle.
---
---
How child care centres encourage each child to guide their own learning