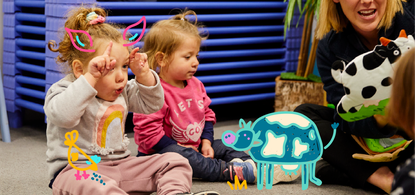 For many children, a big part of their day is dedicated to getting lost in their own imaginary world. The good news is, this type of dramatic play has many benefits for a child's social development. 
Toddle spoke with Ashlee Clews, the Centre Manager from Kindalin Early Childhood Learning Centre Frenchs Forest in Sydney, to find out more about how her centre supports children in dramatic play. Plus we've got some great advice from Ashlee for parents to encourage dramatic play at home.
What is dramatic play?
Children learn through all types of play, but dramatic play relates specifically to games where children pretend to be someone or something else. 
This might look like your child pretending to be a superhero, a teacher, a unicorn, a puppy, a firefighter, a mermaid, a farmer - or anything that they're interested in.
How does dramatic play support a child's social development?
'It encourages 'real-life' play, where your child can use their own past experiences to develop a deep understanding of the world around them,' explains Ashlee.
'Dramatic play promotes social skills such as developing empathy and respect, turn-taking, problem-solving and developing the skills necessary to resolve conflict.
Communication skills are fostered when engaging in discussions within the role play. Children's imaginations flourish when they are given an open-ended experience to explore,' she says.
How can parents encourage dramatic play at home?
'Dramatic play is a fun, educational and achievable activity for home, as long as you and your child are ready to let your imaginations run wild!' shares Ashlee.
'Resources can be endless and are limited by your creativity and imagination – these can include some mixing bowls and a spoon, a cardboard box, or even using blocks, stones or leaves as pretend food.'
'With dramatic play, your resources are limited only by your creativity and imagination.'
What are some dramatic play ideas?
The family setting - everyone takes on a different role such as mum, dad, sister, brother, or baby.
Animals - perhaps pretending to be pets, wild animals in the jungle, or animals at the zoo.
Doctors - what is wrong with the patient and what treatment do they need?
Working as a chef in a cafe - taking orders, cooking and serving.
A picnic with their toys - don't forget the pretend food. What will the teddy bear bring to the picnic?
Dressing up as other roles or characters - many children love pretending to be Elsa from Frozen, or a superhero like Spiderman.
What are some tips for parents to make dramatic play even more fun?
'Be in the moment,' says Ashlee. 'Use your imagination and get into the role of who or what you are portraying. Don't be embarrassed or shy, it's just meant to be fun.
Use language in your play that promotes learning. Explore different roles and points of views in the play – challenge your child's thinking. Explore emotions – this can be done by role modelling empathy, respect and care,' she says.
You can get more details, read reviews, see photos and videos, or book a tour at Kindalin Early Childhood Learning Centre Frenchs Forest here. Or find child care in your area with Toddle by typing your postcode in the search bar at the top of the page.
---
---
Why dramatic play is beneficial for your child's social development