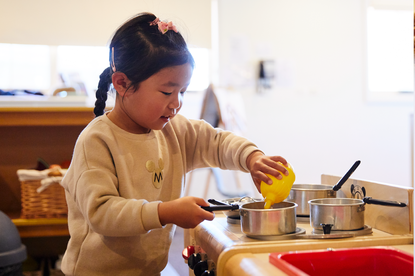 As parents, it's natural to want your child to become confident, independent and capable. What you may not know is that your child care centre wants that for your child too, and this is actually a big part of the curriculum.
Toddle spoke with Alison Wharton, Centre Manager at Kindalin Kellyville to find out more about how child care centres can help boost a child's self-help skills.
'Each child's independence is encouraged from the moment they walk through the door in the morning until they leave at the end of the day,' shares Alison.
What tasks are children doing that help build their self-help skills?
'Children are encouraged to carry their own belongings, pick a locker for their bag and apply their sunscreen,' explains Alison.
'Throughout a child's day, they are also provided with opportunities such as washing their own hands, packing away toys or belongings, making their own beds and serving their own morning tea and lunch.
As the children develop a sense of security and autonomy within their environment, we encourage them to wave goodbye to family members and be involved in decisions about things that affect them.'
'Each child's independence is encouraged from the moment they walk through the door in the morning until they leave at the end of the day.'
How can parents support their child's self-help skills?
'Provide your child opportunities for independence at home,' shares Alison.
'Although they are not in the same routine as their usual 'arrival' at child care, there are parts of your home routine that can support your child's self-help skills and independence.
It is important to give them time and patience in carrying out tasks themselves, providing guidance where necessary and acknowledging their effort.'
Which activities can parents encourage at home?
'Self-help opportunities at home will depend on your current routine and lifestyle,' says Alison.
'To promote your child's independence during this time, consider allowing them to attempt common tasks on their own before offering assistance.'
The types of tasks will differ for every family, but here are some suggestions from Alison:
Picking their own clothes to wear for the day
Undressing/dressing themselves (depending on their skill level, this
may only be a shirt, sock or whole outfit)
Brushing teeth
Providing achievable tasks such as pouring their own cereal from a
small cup rather than large cereal container, buttering toast etc.
Putting empty dishes in the sink after meal time
Putting their shoes on
Applying sunscreen
Brushing their hair
Table preparation (wiping down the table, placing cups on the table)
Find out more about Kindalin Kellyville, view photos and videos, read reviews, explore the programs and menu - or book a tour! 
If you need child care for your little one, Toddle can help! Just enter your postcode in the search box at the top of the page.
---
---
How your child care centre helps to promote self-help skills