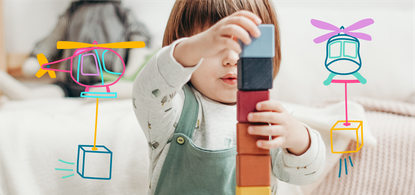 When your little one attends a child care centre, you and your family become part of a new community. Centres understand this and put a lot of effort in to ensure a strong community of families is established for the children in their care.
Toddle spoke to the Centre Managers from some of the Great Beginnings centres around Australia to find out what they're doing to support this connection.
Do you think that child care is a good way for parents to meet other parents in their area?
'I believe Early Childhood is a positive way for families to meet other families in the area as it gives them the opportunity to engage with others at drop off and pick up times,' says Rebecca Tornello, Centre Manager, Great Beginnings Mill Park.
'They'll also meet people when their child becomes good friends with other children and they get invited to birthdays and play dates. 
It also allows families to engage and socialise with families of children that are similar in age. This gives them the opportunity to share their experiences with one another.'
Janaya Annen from Great Beginnings Marsden Park agrees. 'I think it is a great way for parents to interact and build relationships with other parents,' she shares. 
'This provides a support network for families, especially those that don't have a lot of family close by, and gives them the opportunity to share insight and knowledge with each other.' 
How do educators facilitate relationships between families? 
'We hold events as often as we can,' shares Melissa Walker from Great Beginnings Bunbury. 'This is a great way for the families to meet and build their relationships.' 
Rebecca explains that in her centre, the current COVID situation has meant that the centre has had to adapt as the usual events need to meet the new regulations. 
'It has been quite challenging to connect families,' she shares, 'but we have ensured we put in other measures such as: zoom calls, zoom meeting with groups of families, and through XPLOR posts for instance. 
When there is a special event, we ensure there are take home packs for families to engage with in order to feel connected.'
Do you make a point to introduce families to each other?
Brittany Diston, the Centre Manager from Great Beginnings Lyndhurst, explains that they try to facilitate introductions of families. 
'We are always suggesting families for play dates,' she shares. This is also the case when educators know that children will end up attending the same primary school. It can be so helpful for children to start formal education with a couple of familiar faces by their side.
'We introduce parents to each other, especially if the children are in the same room and have formed a bond with another,' explains Rebecca.  'I think it is important to assist and introduce families, as it gives them the confidence and support they need.' 
Shar-May Searle, the Centre Manager from Great Beginnings Speers Point agrees, saying that these casual introductions create 'a sense of community in the classrooms and across the centre.'
Why do you think it's important for families to make friends with other families in their area?
Janaya shares that this sense of friendship is a great role modelling opportunity for parents. 'It will provide your child with opportunities to further develop relationships with peers,' she said. 
'It is important to encourage families to make friends with one another as it allows them to create a support network within a community,' explains Rebecca. 
'By connecting families in similar situations, they can support each other and their child's development.'
---
---
How child care centres help build a community for the families in their care