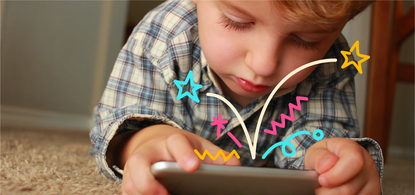 If you're in lockdown with kids and craving some connection to other people, a virtual playdate can be great fun.
However, for the under-fives, the likelihood of them sitting down and chatting happily to their friend for any length of time is pretty slim.
They just don't have the language skills yet to have a deep conversation, but they can share an experience.
With that in mind, we've come up with some fun ways that you can set up a virtual playdate so that all participants are happy and engaged.
So make a time with your friends to get on a video call, and try out some of these ideas for yourself.

1. Learn something together
Is one of the parents on the call good at drawing or painting? They can host an online art class for the children. Have everyone come prepared with their paper, pencils and paints and decide in advance what you're going to do. Then let the creative juices flow! If the children are a bit small for this idea, why not just colour in together?

2. Cook together
If your child is more interested in getting an apron on than an art smock, try this. Find a recipe that you and your friend are both comfortable with (think banana bread or cupcakes). Then start your virtual playdate while you mix and make your goodies. You can send each other photos later of your creations.

3. Eat together
Following on from the idea of cooking together, you could also enjoy a meal or snack together on your virtual playdate. Decide on a time and you can both set up on a picnic rug in the garden or on the carpet inside. Chat about what food you have brought, ask each other questions about your favourite fruits, and talk about where you'd love to go for a real-life picnic in the future.

4. Create and share
If the children are both into creative play (such as LEGO or play dough), why not use your virtual playdate as an opportunity for some parallel play? The children can see each other as they make their creations, and then take turns to show what they have made.

5. Play animal charades
Have the parents select an animal for their child to act out and whisper it to them, and the other child has to guess. Remember that with charades, no sounds are allowed!

6. Storytime
Books are a great way to have a quick virtual playdate to connect with friends. Each family could grab a book to read out loud, ensuring that everyone can see the pages on the screen. Or ask other family members to read to your little ones on a video call, they'll love it. Why not download and read Toddle's own storybook, 'The Boogers Are Coming'?

7. Dance off
If your child and their friend love music, why not blast a few tunes for them to dance along to? You could even mix it up by adding a game of musical statues, to keep them on their toes.

8. Watch party
If your little one and their friends have a favourite short cartoon, you could share your screen while they watch something together. This is a fun way to interact, and listening to their pals giggling along with them will put a smile on their face.
---
---
8 fun ways to create a virtual playdate for your child