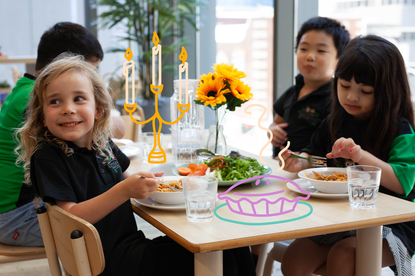 Have you noticed that your child will often eat a wider variety of foods when they're at child care compared to when they're at home? There are many reasons for this, which we've explained below. 
Hopefully these insights will give you some good tips that you can try out, to help your child enjoy trying the meals and snacks that you prepare for them at home too.
1) Planting, growing and harvesting food
It's very common now for child care centres to have the children helping out in the vegetable garden, collecting eggs from chickens, or even picking fresh oranges off their tree. 
This hands on experience teaches children about where their food comes from, and the act of simply touching the food reduces their anxiety about trying it. 
Tip: let your children plant a herb garden, or some cherry tomato plants, and allow them to look after it.  
2) Staggered meal times ensure they're hungry
One huge hurdle that child care centres overcome is ensuring that the children eat when they're hungry, rather than just eating at a certain time. Most centres these days run a staggered meal time, which means that little ones can choose to stop what they're doing and get something to eat rather than being told to pack up because it's lunchtime. This teaches children to self-regulate their hunger and listen to their body. 
The other good thing that child care centres do differently to the home environment is that they don't generally allow children to eat outside of meal and snack times. With little to no grazing through the day children arrive at the table hungry and ready to eat.
Tip: try not to allow little ones to eat/graze throughout the day, so that they come to meals hungry.
3) Communal meal times with friends and educators
When the children sit down with their friends and educators for their lunch, it's a great opportunity to discuss what's on their plate and the benefits of eating healthy food. Sharing a meal, serving each other, and enjoying conversation is a great social experience that teaches children that eating is enjoyable. When children see others eating and enjoying food, it encourages them to do the same.
Tip: when you can, try to have your meals together as a family. Use the time to discuss everyone's day and what your plans are for the weekend. Talk about the food you are eating and how it will help everyone have enough energy. Try this recipe from a child care centre chef for child-friendly meatballs.
4) Zero pressure to eat
Your child care centre doesn't feel the same stress to ensure that everything on the plate gets eaten - and children pick up on this. When the pressure is off, children feel more relaxed at the table and this can encourage them to eat well. 
If they don't eat much at morning tea, the educators know that your little one will most likely compensate by eating a good lunch and so they don't make a fuss about it. 
Tip: Child care centres also often use a repeated meal plan, so the children know that Tuesday is spaghetti day for instance. Little ones often find comfort in this, and you may benefit from a flexible but reliable meal plan for your family (e.g meat free Monday, Mexican on Tuesday etc).
5) Cooking lessons and meal prep 
Getting the children in the kitchen is a proven way to encourage them to eat their creations. Child care centres often include the children in their meal prep (such as cutting up fruit to share) as well as cooking lessons (where children help make the meal). Explaining the cooking process to children takes the mystery out of a meal, and shows them how much care and love goes into making it. 
Tip: depending on their age and skill level, your child can help you prepare simple meals and snacks such as these banana muffins.
Ready to find child care for your little one with Toddle? Simply enter your postcode in the search box at the top of the page to get started.
---
---
5 ways child care centres encourage children to try new foods