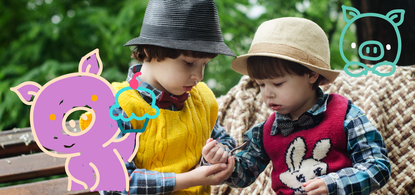 'What's yours is mine, and what's mine is...also mine' seems to be the refrain of most toddlers. Teaching your little one to share is an important life skill, and the good news is, your child care centre is pitching in to help too.
To find out more, we spoke to Amy King, the Centre Manager from Milestones Early Learning Point Cook in Victoria; and Jola Sung, Education Advisor for Lifelong Learning Centres.
What types of activities help teach young children to share?
'Sharing can be practised in everything we do,' says Jola. 'When playing with young children, such as with building blocks, encourage them to pick up blocks to share with you.  
Role model sharing by dividing toys between the number of children playing and using the words 'I am sharing some toys with each of my friends'. It is all about providing consistent opportunities for them to learn and revisit the skill.'
When are children old enough to understand sharing?
There's a reason little ones find it difficult to share with other children. 'Children learn and develop at different paces,' says Amy, 
'Young children are generally egocentric, meaning that they find it difficult to see from other people's perspectives. This is why sharing can be a hard concept to grasp until after 2-3 years of age.' 
What would an educator do if they saw a child having difficulty sharing?
An educator would quickly step in, says Jola. 'They would become actively involved in the situation and talk the child through the sharing experience,' advises Jola. 
'So they would explain to the child "this one is yours and this one is mine. Now we both have one to play with!" This helps children as they really value the idea of fairness.
Amy explains that it's all about Educators getting down to the children's level. 'We would be talking with the children in age-appropriate language about sharing the toy and how they can use language with their peers to develop their communication,' Amy shares. 
What can parents do to help encourage their child to become better at sharing?
'Be consistent and patient,' says Jola. 'Role model sharing with them as well so they can learn and see it happen in different ways.' 
The child care setting is actually a great place for children to learn to be good sharers.  'Children learn so much by simply being with peers their own age,' explains Amy, 'as well as understanding how they belong and fit within their community. 
Sharing and turn-taking are also skills that are reinforced by educators regularly to support children's social development.'
Is sharing is a key skill for children to learn before they start school?
'Absolutely,' says Jola. 'Sharing is a big part of building healthy social relationships with peers which can greatly influence a child's sense of self and wellbeing at school.
Turn-taking is another skill that is closely related to sharing. Items that can only be used by one child at a time can be difficult to share, this is where turn-taking skills are helpful to reinforce so children can learn to wait patiently until it is their turn. 
Turn-taking allows the child to finish their play without being interrupted and forced to share when they are not ready.'
You can read more about Milestones Early Learning Point Cook here, or find child care for your little one by entering your suburb in the search box at the top of the page.
---
---
Child care plays an important role in teaching children how to share