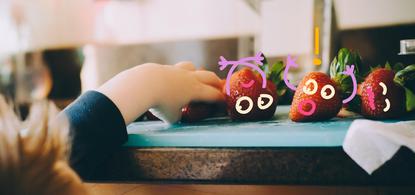 The Educators at Niño Early Learning Adventures Saratoga Estate (Point Cook) want the children to enjoy the meals and snacks that are prepared for them. 
But as Centre Manager Claudia de Arbizu explains, they're also committed to enabling children to make healthier food choices and learning to appreciate where their food comes from. 
We asked Claudia to share with us the ways her centre is helping to promote healthy eating for children.

1. Teach them about where food comes from
The centre knew that children learn by doing, so they set up vegetable and herb gardens that the children can get involved with, in their outdoor space.
'We actively involve children in planting seasonal produce to understand the importance of growing, harvesting, preparing and sharing,' says Claudia.
From there, the children can get hands-on and learn about how to prepare some healthy meals and snacks. 
'At Niño ELA Saratoga the children take part in various cooking experiences with our chef,' says Claudia. 
'These include preparing recipes such as hot cross buns, cookies, pancakes, and muffins, with the healthier options being cheese and corn muffins, or date and cacao balls.'
2. Offer them a wide variety of healthy food 
At the Niño ELA centres, nutritionist and Olympic gold medallist Lauren Burns collaborated with the chefs to come up with a 'fresh, seasonally influenced and nutritionally balanced menu that tastes great and enhances wellbeing,' explains Claudia.
Niño ELA Saratoga's chef Tamayo is passionate about children being able to build  healthy eating habits for life. All of the children's meals and snacks are cooked on-site daily, with menus adjusted for individual dietary requirements. 
As Claudia explains to parents coming to visit her centre, 'The food here is not only healthy, it's food they'll love to eat.'

3. Use food as a learning opportunity
At Niño ELA Saratoga, meals are not just time to refuel. The Educators make an effort to turn each meal and snack into an opportunity for children to learn or enhance their skills.  
'Mealtimes are a particularly precious time of the day,' says Claudia. 'The children and our Educators are able to enjoy chatting and discussing what matters to them during their day. 
It is through these types of experiences that young children develop speech and language skills, as well as listening skills when engaged in a conversation. 
At Niño ELA Saratoga, conversation starters support the language of Positive Education, encouraging children to talk about themselves and the character strengths they have demonstrated,' says Claudia. 
Conversation starters are small slips of paper with open-ended questions on them. They are available on all dining tables at Niño ELA Saratoga, ready for children and Educators to utilise during mealtimes. 
'Conversation starters support children to learn to express ideas, feelings and to understand and respect the perspectives of others,' says Claudia.
4. Help them to enjoy the experience of eating
The Educators seek to teach children about listening to their body when they eat, rather than just mindlessly consuming.
'Mindful eating is a focused awareness of the food and drink you put into your body,' explains Claudia, 'where you are observing rather than judging how the food makes you feel and the signals your body sends about taste, satisfaction, and fullness. 
Mindful eating requires you to simply acknowledge and accept the feelings, thoughts, and bodily sensations you observe—and can extend to the process of buying, preparing, and serving your food as well as consuming it. 
By paying close attention to how you feel as you eat—the texture and tastes of each mouthful, your body's hunger and fullness signals, how different foods affect your energy and mood—you can learn to savour both your food and the experience of eating.'
Educators spend time talking with the children about the experience of eating together, to help bring these skills to life.
5. Find ways to encourage children to try new foods
Claudia suggests that we can encourage little ones to be more receptive to new flavours and textures by involving them more in the whole process of meal preparation.
She suggests that it can be a good idea to 'provide opportunities for your child to be involved in the preparation of the family meal.  You might also find that some of the best conversations happen as you are preparing a meal together,' Claudia shares. 
'Talk about why certain foods were served, how foods provide nourishment and why it is important to refrain from eating too many refined and sweet foods.' 
When it comes to eating, Claudia suggests that sharing a meal together allows conversations to take place. 
'Simply being together and chatting about the day provides opportunities for your child to practice and further develop their speech and language skills, as well as listening skills when engaged in a conversation.'
What are the children's favourite meals and snacks?
There's no need to assume that children can't have healthy favourites when it comes to homemade food. Claudia shares that at her centre, the children's three favourite meals are: 
Homemade gnocchi with pumpkin sauce, fresh basil and parmesan
Roast free-range chicken served with roast potatoes, steamed vegetables and gravy
Vegetarian lasagne with a fresh green side salad
Your little one will love Niño ELA Saratoga. They can enjoy some messy play in the mud kitchen, go wild in the adventure playground, or dig in the sand under the big sunshade. 
Watch nutritionist Luaren Burns discuss nutrition at Niño ELA Saratoga 
Find out more about Niño ELA Saratoga by visiting the Toddle child care centre listings.
---
---
An Educator shares five ways to encourage children to eat well for life