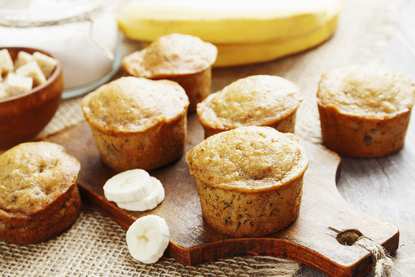 It's so easy to grab a baked treat from the supermarket or bakery, but there's a reason they taste super sweet - they're often loaded with sugar!
When it comes to cooking for little ones, the chef from Kool Kids Mermaid Waters in Queensland knows how to bake sweet treats that are a) delicious and b) free from white sugar.
Today we have the pleasure of sharing this amazing recipe with you. Why not get the children involved in the cooking process? There are so many benefits to cooking with children - they can learn a little maths and science, as well as refine their fine motor skills as they pour, mix and measure.
Banana Monkey Muffins 
These are delicious fresh out of the oven, or why not make double and freeze some so that you always have healthy treats on hand. 
Makes 12 muffins 
Ingredients: 
1 & ¾ cups wholemeal self-raising flour
1 tsp baking powder
1 tsp baking soda
½ tsp cinnamon
⅓ cup coconut oil
½ cup honey
¼ cup milk
2 eggs, lightly beaten
1 cup Greek yoghurt
1 cup chopped banana
1 tsp vanilla essence
Method
Grease a 12 hole muffin tin, or line with paper cases. Preheat your oven to 200C.
Place the flour, baking powder, baking soda and cinnamon In a large mixing bowl, stir to combine.
In a separate bowl, add the oil and honey and mix well with a fork. Add the eggs, yoghurt, milk, banana and vanilla and mix with a whisk. If at any point the coconut oil solidifies, just warm the mix in the microwave for 30 seconds.
Add the wet ingredients to the dry and mix gently with a wooden spoon. Don't worry if there are a few lumps.
Pour the batter into the 12 holes of the muffin tin.
Bake in the hot oven for 15-20 minutes, or until a skewer inserted into the muffin comes out clean.
Cool muffins in the tin for 10 minutes before removing from the tray.
You can find out more about Kool Kids Mermaid Waters here, or search for care in your area by entering your suburb or postcode in the search bar at the top of the page.
---
---
Child care chef shares a low sugar banana muffin recipe