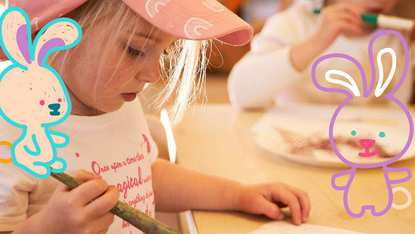 Easter is a wonderful time of year surrounded by the colours of Autumn, chocolate, hot cross buns, and of course family. Easter activities for kids help strengthen family bonds, create opportunities for skill development and imaginative play, and keep the kids happily entertained. To make your time together as fun and melt-down free as possible, we've compiled our top 8 Easter activities for kids - there's sure to be something for everyone.
1. Egg and spoon race 
There's nothing like a good old-fashioned egg and spoon race - it's Easter themed, fun for people of all ages, and it has the potential to get messy! All you need to do is line up your family members or guests with a dessert spoon and an egg (you can use boiled eggs or plastic eggs if you'd prefer), and count down for the race to begin. The aim is to balance the egg on the spoon, and be the first to get to the finish line without dropping it!
2.  Easter egg hunt 
Most likely the highlight activity for kids, the classic Easter egg hunt can't be forgotten. However, you can give it a twist this year by checking out these ideas for an amazing Easter egg hunt, including tips on how to create a scavenger-style Easter egg hunt.
3.  Build an Easter nest 
Make a beautiful, cosy nest for the Easter Bunny by collecting bark, leaves, sticks, flowers and feathers. Depending on age and skill level, your child can weave these together to make a nest, or simply use them to decorate a bowl or basket. Tell your child the Easter Bunny will visit their beautiful nest and leave a surprise for their efforts.
4.  Colourful boiled eggs 
Get into the Easter spirit with this colourful twist on a breakfast staple: all you need is 6 eggs, vinegar, food colouring and 6 cups of boiling water. Here's how you make them:
Boil the eggs for roughly 10-12 minutes, and then let them cool.
To make the dye, combine two tablespoons of vinegar and 20 drops of your chosen food colouring in each cup.
Being careful of little fingers, add one cup of boiling water per cup of dye.
Carefully place the eggs into the dye, and soak for 15 minutes (for a lighter colour, leave your eggs to soak for a shorter time).
Enjoy as short-lived decorations, and give your kids the novel experience of eating colourful eggs for breakfast!
5.  Easter Bunny 'thank you' cards
Children will love creating special cards to leave for the Easter Bunny, and while it's a fun and creative activity it also encourages kindness and courtesy. Prepare some cut out Easter Bunnies and eggs (or simply buy themed stickers), encourage your kids to paint or draw on folded paper or card, then glue on the decorations and stickers. Help them write a message thanking the Easter Bunny for the treats they'll receive, and leave their cards in the Easter nest for him to find.
6.  Salt Dough Easter Egg decorations
Salt dough decorations are an easy and child-friendly activity, with ingredients you'll already have in the house: all you need is flour, salt, water, and craft paint! Here's what you do:
Mix 1 cup of salt with 2 cups of all-purpose flour, then slowly add 1 cup of cold water by a few tablespoons at a time.
Once the dough is smooth, knead for 10 minutes and then rest for 20 minutes.
Roll out flat and cut out the desired Easter egg shapes and use a toothpick or matchstick to make a hole at the top of each egg (this will be used to hang the eggs).
Bake on a lined tray at 120C for about 2 hours until dry and hard.
Once completely cooled, get decorating! Paint with craft paints, glue on sequins and glitter, and hang up with a ribbon or string. Remind your kids that they're not edible biscuits - for edible Easter treats, try these easy and delicious Easter recipes.
7.  Make an Easter tree
The Easter tree is a beautiful addition to the home over this season, and offers a wonderful Easter activity for kids. Find an interesting branch (or, you could use a small tree in a pot), prop it up in a vase or bucket, and decorate with all the wonderful Easter decorations you've made.
 8.  Easter feast
Get some delicious Easter recipe ideas from this article, cook and bake up a storm together, decorate your house with some of the crafts you've made, and invite your nearest and dearest around for an Easter picnic. Add some fabulous Easter party hats, include some fun games, like the egg and spoon race, and it's fast going to turn into a cherished family Easter tradition!
So if you have kids that are in need of some Easter activities, the above will keep them busy for days. Do you need to organise child care for your children? Let Toddle help! Toddle is a free child care directory for parents, with every child care centre in Australia online. Search, compare and enquire with centres in your area today - you can even book a tour. Enter your postcode in the search bar at the top of the page to get started.
---
---
8 Simple Easter Activities for Kids