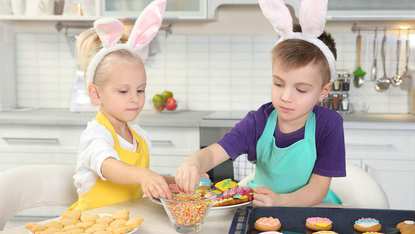 Festive baking and cooking always bring a familiar, comforting and delicious element to any celebration – the smell of hot cross buns baking is a sure way to evoke all things Easter! Along with these Easter activities for kids, cooking is a great way to spend time with kids at Easter, and there's a task for children of every age group in the kitchen: measuring, pouring, stirring and even mashing!
These types of cooking tasks are also great opportunities for honing motor skills and dexterity, being exposed to mathematical concepts, and building self-confidence.
For now, we'll leave the hot cross bun baking for your Grandma's secret recipe, and give you some easy and delicious Easter recipes for kids.
1. Colourful Deviled Eggs
A party classic, deviled eggs are easy and delicious: this year, make them colourful to give them a fun Easter theme! 
Filling
12 eggs
½ cup mayonnaise
1 tsp curry powder or mustard powder
½ tsp. apple cider vinegar
Salt and pepper to taste
Parsley to garnish
Egg dye
235ml water (approx.)
1 tsp. white vinegar
Food colouring of your choice
Method
Place eggs in a large saucepan, cover with cold water and bring to a boil.
Once boiling, take off heat, cover with a lid and let sit for 12 minutes.
Rinse eggs to cool, then peel the shells being extra careful to keep them intact – a tricky job for small fingers, maybe boil some extra just in case!
Cut the eggs in half lengthways and scoop out the yolks into a bowl.
Add mayonnaise, curry/mustard powder, salt and pepper and apple cider vinegar to the yolks, and mash until smooth (this is the step where kids shine!)
Prepare the dye as per packet instructions in cups of water, and add the white vinegar & food colouring to the dye.
Gently place the boiled and halved eggs into the dye, and let them sit for at least 10 minutes or until you're satisfied with their colour.
Let them drain and dry on a paper towel, then carefully spoon the egg yolk mixture into the eggs (you could also use a piping bag for ease).
Garnish and enjoy!
2. Easter biscuits
Unlike beautiful, but inedible, salt dough Easter egg decorations (find out how to make them here), these biscuits are beautiful, edible and delicious! Although they may just look too pretty to eat…
Ingredients
125g butter
½ cup caster sugar
1 ½ tsp. vanilla extract
1 egg at room temperature
2 cups plain flour
1 tsp. baking powder
1 tbsp. milk
For decorating
You can make your own coloured icing and use a piping bag to apply, or you can buy premade icing in tubes, edible silver balls and flowers to decorate.
Method
Use an electric mixer to beat butter, sugar and vanilla in a small bowl until pale and creamy. Add egg and combine until no lumps, then sift in flour and baking powder. Add milk until combined - don't overmix.
Divide the dough into two balls, cover them firmly in plastic wrap and refrigerate for 1 hour.
Line 2 baking trays with baking paper
Sprinkle flour onto a clean, smooth surface and then roll out your discs of dough with a rolling pin until 9mm thick.
Use cookie cutters to make egg and Easter Bunny shapes (if you don't have these, use a sharp knife to cut out oval shapes for eggs). 
Place the shapes onto lined baking trays, and refrigerate for another hour.
Preheat oven to 180C. Bake the biscuits at 180C for 12-13 minutes, or until they are golden - just before they begin to brown.
Let the biscuits cool, and once they are completely cool, decorate with your chosen icing and edible ornaments. 
3. Carrot Cupcakes
Make some cupcakes that the Easter bunny couldn't resist; so soft, moist and full of carrot-y goodness, the whole family will be hopping around with Easter joy!
Cupcake Ingredients
1 cup brown sugar
½ cup vegetable oil
2 eggs (lightly beaten)
1 cup grated carrot (approx. 2 carrots)
½ cup milk
1 ½ cups flour
1 tsp. baking powder
1 tsp. cinnamon
¼ tsp. salt
Frosting
¼ cup unsalted butter
113g cream cheese
2 cups icing sugar
½  tsp. vanilla
Pinch salt
Method
Pre-heat oven to 200C, and grease and flour a 12-hole muffin tin.
Whisk together the oil, beaten eggs, carrot and milk in a medium sized bowl.
In another medium bowl, whisk the sugar, flour, baking powder and baking soda, cinnamon and salt.
Add wet and dry ingredients, and stir with a spatula until just combined - do not over-stir or the muffins won't be fluffy!
Bake for 20 minutes, cool completely before applying the frosting.
To make the frosting, use an electric beater to mix the butter and cream cheese until creamy and lump-free, then stir in the salt and vanilla extract. Slowly add in icing sugar until completely combined. Frost the cupcakes, and enjoy!
And there you have it, 3 simple and fun recipes you can whip up with your kids this easter.
Search and find child care in your local area using the simple Toddle search tool. Read reviews, watch videos, learn about the curriculum, book a tour or send an enquiry - all in the one place.
---
---
Easter Recipes for Kids - Easy to Follow & Delicious!