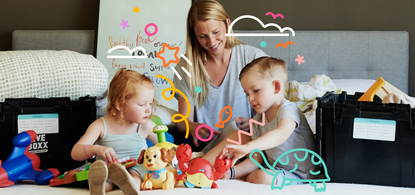 Being away from family during the holidays is not easy. This Easter is going to be quite different for most of us, but there are still plenty of activities you can do with your kids while in isolation or lockdown. While you may not be able to celebrate as you usually do, this might be a great time to create some new traditions with your little ones. If you're looking for inspiration then keep reading!

Egg decorating
This is a classic! Most of us have either painted or dyed eggs in our time, and it's a great craft activity for kids of all ages. There are plenty of ways to decorate eggs, whether you choose to blow out the eggs first or, for a less messy option, use styrofoam eggs instead!
This video shows you how to decorate eggs with food dye, and gives a little background lesson in the history of egg decorating: https://www.youtube.com/watch?v=zjHeWTqPgT8
If you're looking for something a bit more advanced, check out these egg decorating ideas: https://www.youtube.com/watch?v=bjpWM6ds6K0
For something different, why not get your little ones to  paint eggs that look like different members of your family? An egg-celent way to recreate your family tree.
Grow your own Easter eggs
Yep, we're growing Easter eggs! Get some tiny eggs wrapped in foil and 'plant' them outside (or in a pot) the day before. Replace the small eggs with giant ones before your kids wake up on Easter Sunday and watch their eyes widen when they discover their goodies! Plus this means you get to eat the smaller eggs, so it's a treat for everyone.
Make bunny footprints
Leave proof that the Easter bunny visited by making bunny footprints out of flour or talcum powder. It's a bit messy, but your kids will marvel at the huge footprints left behind. Release your creativity, or this blog has a great template you can use: https://www.tidbitsandtwine.com/how-to-make-easter-bunny-footprints/
Easter egg hunt
Another classic Easter activity. Hide some eggs around your house and garden, then set the kids loose! For an alternative to hiding chocolate, you could hide empty egg containers filled with funny actions that the kids have to do. Think 'hop like a bunny' or 'jump up and down on one leg'. Here's a free printable with some great ideas: https://www.aliceandlois.com/easter-egg-hunt-free-printable/
For a virtual Easter egg hunt with friends or family, schedule a Zoom meeting that works for you all and celebrate together when your kids discover their treats hidden around the house.
Watch an Easter movie
Bring the duvet and pillows into the lounge room and get the popcorn ready, it's time for an Easter movie! Our recommendation for the perfect family film is Hop, the story of the Easter bunny's teenage son who heads to Hollywood in pursuit of his dream of becoming a rock and roll star. Check out the trailer here: https://www.youtube.com/watch?v=VBR3jDS-Ad4
You can also check out Here Comes Peter Cottontail or the Charlie Brown episode 'It's the Easter Beagle' - a throwback to 1974!
Bake some Easter treats
You may not be able to bring the entire family together for an Easter meal, but why not bake some Easter treats with your kids instead? Bake some cupcakes or cookies and let your kids do the decorating. Just make sure you don't forget your aprons! These Easter chick cookies are a great place to start: https://www.womansday.com/food-recipes/food-drinks/a19156849/cookie-chicks-recipe/
If you fancy giving hot cross buns a go, we recommend trying this recipe: http://allrecipes.co.uk/recipe/39404/easy-easter-hot-cross-buns.aspx
These brownie bites are super easy, even the least confident chef will nail them: https://www.bbcgoodfood.com/recipes/easter-brownie-bites
Play some games
There are loads of Easter games you can play, especially if you have some space outside! An egg and spoon race is always a laugh riot, or you could hold a sack race around the garden (you could use pillowcases if your kids are small enough!).
If you want something to do indoors, we suggest playing 'stick the tail on the bunny'! All you need to do is cut out the silhouette of a bunny on some card, then give everyone different coloured pom poms to try and stick on once they're blindfolded. Check out this video for inspiration: https://www.youtube.com/watch?v=TZ19PB1SWzo
Another great indoor activity is this Easter I Spy game. Just use this handy printable and your kids will love counting the bunnies, eggs and chicks: https://livelaughrowe.com/easter-i-spy-printable/#_a5y_p=3484580
Get crafty
The possibilities are endless when it comes to Easter crafts! Here are a few of our favourites.
Make an Easter chick with these instructions from Bostik: https://www.bostik.com/ideasthatstick/our-projects/easter-chicks/
Use egg cartons to make cute little chicks: https://typicallysimple.com/spring-chicks-egg-carton-craft/
Dress up in your own bunny party hats: https://thehousethatlarsbuilt.com/2015/03/diy-bunny-party-hats.html/
Paper plates are the base for this chick and lamb activity: http://blog.vickybarone.com/2014/04/04/chick-lamb-easter-craft/
We'd keep this Easter bunny garland up all year round: https://www.cleanandscentsible.com/easter-mini-bunny-bunting/
If you've got lots of time (and popsicle sticks) on your hands, this bunny is a piece of modern art: https://makeanddocrew.com/diy-easter-bunny-nursery-decor/
This Swedish Easter tree is a lot of fun and makes a lovely table centrepiece: http://www.auntpeaches.com/2012/04/swedish-easter-tree.html
Unwind with story time
Audible have released a range of free audiobooks for kids, including the wonderful Timeless Tales of Beatrix Potter: Peter Rabbit and Friends. You can find all of the children's tales here: https://stories.audible.com/discovery. You'll need to create an account to access the free stories, but it'll be worth it when your kids are snoozing just ten minutes into their first book!
Your Easter long weekend plans may be looking a little different than what you had originally planned, but it's still a great opportunity to spend some downtime with your little ones. And if all else fails, you can always rely on chocolate to put a smile on their face, right? Happy Easter!
---
---
Easter activities for kids in isolation