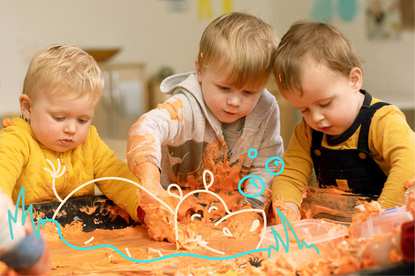 Anyone with children will tell you that little ones don't mind getting a little messy. That's why the educators at child care centres like Endeavour Early Education Kariong have embraced messy play as a learning opportunity that will be embraced by children of all ages
We spoke to the team from Endeavour Early Education Kariong to find out more about their messy play philosophy - and to get some ideas for parents to implement at home. 
Why do you think children enjoy messy play?
'Children investigate and make sense of their world by being tactile, using their hands and their senses. Messy play provides this opportunity and it's also visually appealing to them.'
Who wouldn't want to get their hands on a giant tarp full of foamy bubbles, or dig for buried treasure in wet sand?
What do the parents think?
It seems that messy play at child care is generally encouraged by parents more than messy play at home. After all, the educators have all of the equipment set up, and can control the environment to ensure that things don't get totally out of control.
'Some parents really encourage it and some just see the amount of washing they need to do! Overall though I think parents are happy for messy play for children.'
What are the benefits of messy play? 
'All play is beneficial for children for investigations, making sense of their world, and role play. 
Things like mud pits and sandpits encourage a range of play experiences from mathematical to social and beyond.
During messy play children are developing their skills around language, social, fine and gross motor - everything really.'
'I had a little boy once who was playing in puddles. He assured me that he was finished jumping in the muddy water and wanted to be cleaned up and get changed. After I gave him a warm bath and changed his clothes, he ran straight back to the puddle and almost dive bombed into it with the biggest laugh! Never again did I take the word of a three year old around a puddle of mud!'
How do you keep the messy play under control? 
'Being prepared and advising parents to supply extra changes of clothing is important. We also generally limit the number of children taking part in messy play at any one time.
We always control the area that is going to get messy, for instance ensuring it is outdoors, or placed in a large tub or bucket, or with a large tarp underneath, etc. 
Always use protective aprons - and don't leave them unsupervised for obvious reasons!'
How can parents recreate this at home?
'By encouraging outdoor investigations. You don't need to spend a lot of money. You can always ask educators for ideas or advice. We often look on Pinterest for ideas too.
Design learning environments outdoors where children can have freedom to explore and investigate outdoor materials. Think mud, water, paint or sand. Inside they could have some fun with bubbles in a warm bath.' Why not add a few drops of food colouring or essential oils?
Besides mud, sand and water, what other messy play options are there?
There are so many ways for parents to create a messy play experience at home - and you don't need fancy equipment. 
You could try: 
Shaving foam - let them make patterns on the shower screen or a glass door
Vinegar and bicarb soda - mix together to make volcanoes
Pasta - place it in a tub and hide toys in it for them 
Flour - spread it on a table and let them draw in it
Play dough - kids don't need instructions here!
Slime - make your own or buy it already made
Painting - finger painting, potato printing, or just 'paint' the fence with water and a brush
Rice - add a teaspoon of vinegar and food colouring to a cup of rice then mix to colour it. Use it to make patterns or a rice shaker
Goop - made with 2 cups of cornflour, 1 cup of water and some food colouring
Cooking - bake cookies, make chocolate mousse, or ice some biscuits
Bubbles - in a warm bath, or blow them in the garden
Hair gel - squirt into a ziplock bag with food colouring, remove the air, seal and tape them on the wall to squeeze and move.
Squirty cream - put some in a tub or on a water table and add some toys to play in the 'snow' 
Read more about the Endeavour Early Education Kariong here, or find child care in your area by entering your postcode in the search box at the top of the page.
---
---
A child care educator shares 13 ideas for messy play at home