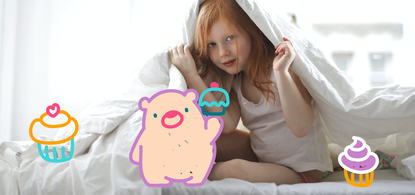 As workplaces, schools and child care centres get back to some sort of normality, it's natural to want to look after your family's health. With all the COVID news, staying fit and well is on everyone's agenda.
Today we have some tips to help parents boost a child's immunity as they head back to child care.
Stay COVID safe
With COVID safety on the minds of families Australia wide, it makes sense to minimise your child's exposure to large crowds of people. If you do need to take them to shopping centres or busy playgrounds, ensure they understand the concept of giving people plenty of space. 
Immunisation schedule up to date
Reduce your child's risk of illness by ensuring that their immunisations are all up to date. This also helps reduce the spread of illness throughout the community. Your child care centre will most likely want to see a copy of your child's immunisation schedule, so it's important that you note down upcoming dates in your calendar to stay on track.
Flu jab for the family
Speaking of needles, consider getting the flu jab each year for the whole family. It's not just for adults, children from 6 months to 5 years of age can get the flu jab for free under the national immunisation program. As the strains change each year it's important to make it a regular part of your annual health routine.
Get plenty of fresh air
Like puppies, children need plenty of fresh air and exercise to burn off some of that abundant energy. Try to schedule some time each day to play in the garden, park, or beach. This is also known to be a positive mood booster - so when they seem a little crabby it might be time to get outdoors for a game of tip. Why not make it a family affair and enjoy a walk together?
Adequate rest
It's normally when children are run down that they can get aches and pains, or the common cold. While they definitely need to get outdoors and run around, they also need time to rest after activities, and get a good night's sleep. Try not to overschedule the children's days to allow them time for naps (depending on their age) or some quiet time with their books or toys. Reducing screens and energetic games at night can also help to make bedtimes more manageable. Prepare as much as you can the night before so that mornings aren't too rushed.
Up their fruit and veg intake
After Christmas and the holidays, it's easy for healthy eating habits to slip a little. Get back into the habit of offering fruit and vegetables for snacks, or alongside their main meals. Children's bodies get so much benefit from the vitamins and minerals found in fresh produce, and these help to protect their immune system and fight off infection. 
Hand washing habits
Most children are pretty clued up about washing their hands, but it's important to reinforce these good habits at home so that they continue them at child care. Not only should they wash their hands after using the bathroom, but also before and after meals, after touching animals and after playing outside.
Stay home if unwell
It's a community effort to keep our little ones healthy, so always err on the side of caution and keep your child home from child care if they are unwell. This stops the spread of illness throughout the centre (for kids and adults alike) and ensures your child has adequate time to rest and recover before they get back to fun and games at child care. 
Do you need to find child care for your little one? Toddle has all of the child care centres in Australia all in the one place. Simply enter your postcode in the search bar at the top of the page to get started.
---
---
8 tips to boost your child's immunity as they head back to child care