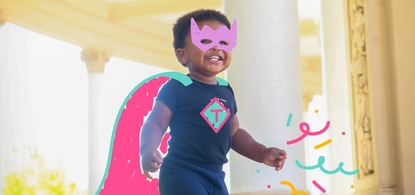 As residents of Victoria step out of lockdown and the rest of the country finds itself adapting to a new way of living, a Queensland research team has investigated the effects of the COVID pandemic on the smallest Australians.
Dr Alex De Young is the lead researcher of the 'COVID-19 Unmasked' study by Children's Health Queensland, which this year asked 700 Aussie families about their experience (and their children's) of the COVID pandemic and lockdown.  
Toddle spoke with her to find out more about her work and the ramifications for the one to five year old children of Australia.
What were the general trends of the study?
'The majority of children (80%) reported that their mental and emotional health was good,' explains Dr De Young. 'However one in five children experienced confusion, worry and unhelpful thoughts and behaviours related to COVID-19.'
According to the research results, between 5-10% of children may need specialised mental health support. The good news is that many families reported that they had a positive experience in the initial lockdowns in Australia. For instance they enjoyed 'more quality family together, increased connection with friends and family, and more appreciation and gratitude.'
What can parents do to help reduce COVID anxiety in their little ones? 
Dr De Young shares three ideas.  
1. Talk to your child about COVID at an age appropriate level
'If they understand the basic facts and see you talking about it in a calm way, any misconceptions they may have can be corrected and they will more than likely feel relieved by your calmness and reassurance,' shares Dr De Young. 
'Encourage them to talk about any big feelings or worries they might have, and ask if there are any questions they have about COVID, either now or in the future.' 
2. Maintain routines, uphold normal expectations and have some fun! 
'Maintaining routines and expectations is important,' shares Dr De Young. 
'Routine is very important for all of us and especially little children. In a big and chaotic world, the predictability that comes from having a routine helps them to feel secure and at ease with their environment.  
However, it is also important to continue to find time to play with your children and do enjoyable things as a family. 
In the current situation, family activities may look different compared to what they used to, but most children typically adapt pretty quickly and are generally delighted by an activity that is centred around quality time, exploration and play.' 
3. Reduce exposure to COVID-19 related media and adult conversations
'Excessive exposure to sensationalised media and COVID-related information can be anxiety-provoking for adults,' says Dr De Young. 
'So imagine how scary it can be for young children! Higher levels of exposure to the daily news on television or online is a risk factor for coping difficulties in children and adults. 
Furthermore, try to be mindful of the types of conversations you, or others have around children. They can often listen to and take in information from those around them and we may not recognise the impact this is having at the time. 
Children are also generally very good at noticing signs of stress, worry or sadness in their caregivers. This combination of complex information and big emotions from their loved ones can create a lot of anxiety for children.' 
A key message for parents is: If you are struggling to manage stress, anxiety or sadness, and you feel this might be impacting on your day-to-day functioning or parenting, please reach out to your loved ones for support and or consider getting some professional help. 
Are child care centres a good place for children to get information about COVID?
'Definitely!' says Dr De Young. 'Most Australian children who spend time at child care often develop close trusting relationships with their educators. 
Reading stories, singing songs, engaging in imaginary play and incorporating COVID safe practices (e.g. regular hand washing and sanitising) into the daily routine can be a very effective way to help children understand the current pandemic/virus, normalise their feelings about it and develop good basic hygiene skills.  
As a society, it is also important that we support and train early childcare educators and teachers so they can identify the early signs of mental health difficulties in babies and young children and learn the tools needed to support children in their care build a bank of words they can use to express their feelings to communicate how they feel with adults as well as promote positive coping, resilience and wellness.'
What are some resources that you recommend?
'The Queensland Centre for Perinatal and Infant Mental Health have developed an excellent book about COVID-19 for children called Birdie and the Virus which explains to children what the COVID-19 pandemic is about,' says Dr De Young. 
'Parents can read this book with their little children to see how the characters Birdie and her friend Mr Frog manage their own experience of the pandemic and talk with their children about the tips and strategies in the book can help them.'
Toddle also has a wonderful free book and video on the subject of COVID-19, The Boogers Are Coming, which you can download to read here or watch the animated video (narrated by Gyton Grantley here). 
Read more about Dr De Young's research results, or take part yourself by visiting the COVID-19 Unmasked website here.
---
---
Study explains how to reduce COVID related anxiety in children