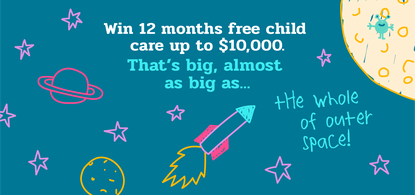 Let's all agree, 2020 has been a tough year. Between bushfires, COVID-19, economic upheaval and all this time at home - anyone would be happy to win something BIG to take their mind off the news.
Does up to $10,000 towards your child care costs sound big enough for you? Toddle is giving one lucky winner the chance to win up to $10,000 paid towards co-payment for child care costs.
Simply enquire to any child care centre of your choice on Toddle.com.au anytime from October 26th 2020 to midnight on December 18th 2020, enrol your child and you'll automatically go into the draw to WIN! The winner will be contacted via email on December 24th 2020.
Toddle has every child care centre in Australia in one place. So just type your postcode in the search bar at the top, and you'll have access to all of the centres in your area.
Read reviews, check out photos, find out about the programs they offer, and even view the menu! Toddle makes finding child care easier.
Toddle Founder and CEO, Arthur Charlaftis says that 2020 has been a tough year for both child care centres and families. 'At Toddle, we wanted to offer something big to help,' he says. 
'By giving parents the chance to keep those child care fees in their pocket, they'll be able to spend them on something big like a holiday, a renovation, or even to pay off their car. 
This is Toddle's way of supporting the families that keep child care centres running in Australia.'
We asked some of our under five year old friends to fill in the blanks to really explain our competition in more detail. 
We asked them, "$10,000 is almost as big as…what?" They answered...
A massive T-rex!
The sun!
A monster truck!
A blue whale!
We agree, it's a big prize, and we really don't want you to miss out. Enquire about child care today by entering your postcode in the search box at the top of the page. Win BIG with Toddle!
---
---
WIN 12 months of free child care. That's big...