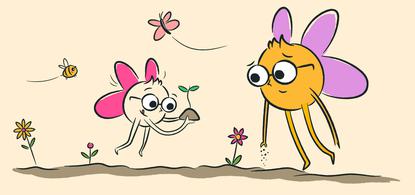 As Australia's most trusted child care comparison site, Toddle is committed to a more sustainable future. Although some people might think that children under five are too young to understand the concept of sustainability, it's become apparent that they are more than capable of taking on 'green'  practices and taking part in activities that will benefit the community for years to come. 
Here are 5 of the ways that child care centres are teaching young children to live more sustainably every day. The best part is, these are all terrific ideas for parents and families to try out at home too.
1. Edible gardens
So many child care centres have a special area where the children can grow veggies, herbs and fruit. By providing children with this opportunity to plant, tend and harvest food from their own veggie garden, they can learn so much. 
Children can learn how to handle delicate seeds or seedlings, they strengthen their grip by digging in the soil, they learn responsibility by watering and weeding, and they understand delayed gratification while waiting for plants to grow. 
For parents, this is fun and simple to replicate at home. Something as simple as growing some basil in an old tomato tin, or planting a seed in a pot and watching it grow is so beneficial for children's understanding of how nature works.
2. Compost & worm farms
Children are often fascinated by insects, and they often don't mind getting their hands dirty. A compost bin or worm farm can be a great hands-on way for child care centre educators to teach children about recycling the centre's food scraps to feed the veggie garden.
The children can look inside and see that the scraps that they put in feed the wriggly worms, and how the worms create fertiliser for the gardens. For parents, composting and worm farms can teach children about the natural cycle of food and decomposition. It's easy to buy a pre-made kit or make your own using materials from around the garden.
3. Sorting the recycling
Child care centres use recycling as an opportunity to teach children about what happens to their waste (such as bottles, boxes, jars and tins) once they're finished with it. For families, it might be as simple as adding clear labels to the recycle bins so that children know where to place each item.
Or it might mean encouraging them to reuse items for craft - an empty Weet-Bix box or egg carton makes a great rocket! While you're reusing, you could look in the garden for art supplies instead of buying them - think collages and crafts made of leaves, twigs, gumnuts, or flowers.
4. Energy and water use
Children love to be helpful, and many centres will ask a little helper to turn off the lights when everyone leaves the room; or to gather any leftover water from the children's cups to use in the garden. 
Why not take a leaf out of the child care centre's books and try things like the above, or ask children to wear a jumper instead of turning on a heater. You could also make a point of turning the lights off in the middle of the day when everyone is playing outside.
If your garden is looking a bit parched and you haven't got a rainwater tank, you could also consider a few days where everyone showers while standing in a big plastic tub. Then you can use that water to give your plants or lawn a drink.
5. Community involvement
Many child care centres take the children on beach and bush kinder excursions. This is an opportunity to connect with nature, and to use the resources you find (a stick, or an insect) for your play. Some centres take this a step further and take part in beach or bush cleanups to remove any rubbish that they see. Some also take part in tree planting days or other community initiatives.  
For parents, it's easy to extend on the children's learning from child care and take part in your own activities closer to home. You might do a clean up at your local park, or go for a bush walk and see how many pieces of rubbish you can collect. 
All of these activities teach children that they may be small but their actions do add up. You're never too small to change the world! We've even created an animated children's book with this same message, which you can view here. 
With every child care centre in Australia on our comparison site, Toddle can help to make finding child care easier. Whether you want to find a child care centre with a strong sustainability ethos, a centre that's near your work, or a centre with extended hours - it's all there for you at Toddle.
Start your search for child care here with Australia's most trusted child care comparison site, Toddle.
---
---
5 (easy) sustainability ideas that parents can borrow from child care centres