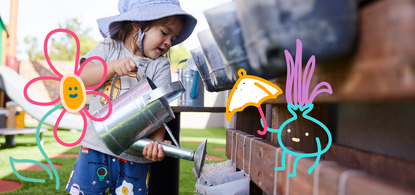 For children growing up in 2021, the idea of looking after the planet and caring for the environment comes naturally. Besides families, child care centres are one of the key places that children learn about sustainability and how it benefits everyone. 
Toddle spoke to three centre managers from Greenwood child care centres in Australia to find out how they drive the message of sustainability home to the children in their care. 
What does sustainability mean to your centre?
Tiarnee Morris is the Centre Manager of Greenwood Five Dock. She explains the centre's philosophy as simply 'educating the next generation to care for our planet.' 
For Laura Dell, the Centre Manager of Greenwood Frenchs Forest, the concept is a commitment for the future. 'We are committed to protecting our environment to ensure a sustainable future for our children and through continuous improvement we strive to be better tomorrow than we are today,' she shares. 
'At Greenwood Frenchs Forest we are actively participating in caring for our environment and promoting sustainable practices through educating and working with the children, families and the wider community.
Learning about sustainability starts with everyday practice. Our babies and toddlers can begin by watching educators model these behaviours, they may learn through song and rhyme as educators verbalise what they are doing. 
Our preschoolers can begin to reason why practices are needed and to understand the impact that their actions have on the planet.'
Why do you think it's important to teach children about sustainability?
Paula Quinn is the Centre Manager at Greenwood Gladesville. She suggests that 'children that learn about sustainability and recycling become proactive in reducing our carbon footprint.'
Tiarnee believes that 'practicing sustainability empowers children to construct knowledge, explore values and develop an appreciation of the environment and its relationship to their worlds. This lays the foundations for an environmentally responsible adulthood.'
For Laura's centre, 'practicing sustainability empowers children to construct knowledge, explore values and develop an appreciation of the environment and its relationship to their worlds,' she says. 
'This lays the foundations for an environmentally responsible adulthood.'
How does your centre support sustainability in practice?
Paula's centre uses several initiatives to showcase sustainability in action, including: 
Turning off the power for 2 hours every day during rest time
Growing fruit and vegetables
Using scraps on the garden as fertiliser
Using keep cups for coffee
Using face cloths instead of wipes for hand and face washing
Children bring their own water bottles instead of washing cups.
At Laura's centre, sustainable practices are embedded in the children's daily routine and in their day to day activities. Some of these include: 
Using recycled materials where possible.
Encouraging children to use half flush on the toilets.
Encouraging children to turn the water off while they wash their hands.
Encouraging children to recycle paper and rubbish in their rooms, at home and the wider community.
Talking to children about electricity and encouraging them to turn off lights.
Educating children in the natural decomposition cycle through exposure and participation in worm farms and composting food scraps.
Educating the children and having them participate in "garden to plate" activities i.e. vegetable garden, cooking activities, seed sprouting.
Educating children in how to care for pets and actively looking after the centre pet.
Educating the children on caring for plants and our water ways e.g. recycling water.
What do the children love most about the sustainability elements of your centre?
The children get a lot out of these sustainable practices too, says Paula. 'They enjoy feeling like they are doing something for the planet. They feel empowered by watering and weeding gardens, as well as harvesting produce.' 
Recycling comes as second nature to children who can use their imagination to see things in a new way. 'The children love to play with real life things,' says Laura. 'They love to make something new out of something old.' 
What do the parents think?
The parents offer the centres plenty of nice feedback on the sustainability of the centre and the lessons they are teaching the children. 'Parents enjoy the fact that we are teaching their children about sustainability, and encouraging them to go home and talk to their families about it,' says Paula.
At Tiarnee's centre the parents make use of the recycling program, bringing in leftover boxes or bottle tops to use for arts and crafts at the service. These can then be used to make artwork, whether it's a spaceship, a house or a decoration for the wall. 
Laura says the parents often comment on the ingenuity of the centre and ways that they use recycled materials. 'Recently a local warehouse was throwing out old crates. They donated them to us and we used them for sensory walls and raised learning spaces in the centre,' says Laura.
The future looks bright for sustainability for the younger generation, and the centres are even appointing educators into dedicated roles to support their goals. 
'We have a sustainability officer who is always on the lookout for better practices at the centre,' says Paula. 'They have built a relationship with our local Bunnings who are working with us to introduce worm farms and composting at the centre.'
How does your child's centre teach the little ones about sustainability? Is this something that you could help to facilitate? Read more about child care centres that are taking their programs to the next level here.
Need child care? Toddle can help. Find child care in your area simply by entering your suburb or postcode in the search bar at the top of the page.
---
---
How child care centres teach children about sustainability