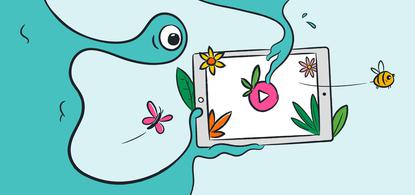 Australia's most trusted child care comparison site, Toddle, is excited about building a greener future for children. Our new storybook, 'Go Green with Morph' is not only available as an illustrated book, we've now got an amazing celebrity narrator on board to bring the book to life!
We are so pleased to announce that media personality and mother-of-one Erin Molan has added her signature voice to the book, which has been released as a delightful animation today, which you can view below.
Erin Molan voices Toddle's 'Go Green with Morph' children's storybook 
Erin Molan is mother to nearly three-year-old daughter Eliza and feels reading with your children is an essential component to their learning and language skills, and acts as a light-hearted, yet powerful way to educate them on important issues.
'Eliza loved the last story book from Toddle so when they reached out for me to narrate the Go Green With Morph animation, I was on board from the get-go,' says Erin. 'As a busy working mum, I am always making time to teach Eliza about helping the environment by getting her to do small sustainable tasks each day,' she shares.
Using bright and colourful illustrations and an engaging rhyme, children will learn about all the ways that they can help the environment, starting today. 
Erin Molan reads the book aloud as you watch the colourful characters interacting with the main character, Morph. This is an engaging short animation to share with children, to help explain how their actions can have a huge impact on the world.
(Image source: Daily Telegraph & Justin Lloyd)
After the success of Toddle's first storybook The Boogers Are Coming in 2020 (featuring voice overs from Fifi Box and Gyton Grantley and aimed at educating children with COVID health tips), Toddle Founder and CEO, Arthur Charlaftis knew he was onto a winning platform for reaching and engaging with children.
'Go Green With Morph presents the basics of how to be sustainable in a simple, yet insightful way that young children can understand and take away a message from,' says Arthur. 'Erin Molan's recognisable personality, experience as a presenter and her animated voice makes her a perfect choice to narrate our new animation, and she is a wonderful role model for parents.'
The animated book is perfect for parents to share with their children, or for child care centres to use as part of their sustainability curriculum. Toddle is so proud to share our sustainability program with parents, children and child care centres. 
With every child care centre in Australia on our comparison site, Toddle can help to make finding child care easier. All the information you need is presented in an unbiased way, including ratings, reviews, testimonials, fees, current availability, photos and videos, tour booking enquiries, and more. And it's free to use, no catches.
Start your search for child care here with Australia's most trusted child care comparison site, Toddle.
---
---
Erin Molan voices Toddle's 'Go Green with Morph' animated storybook