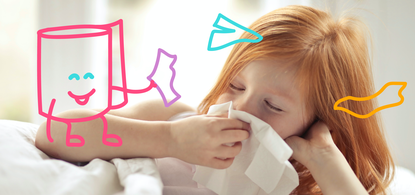 Child care educators work in partnership with the families of the children in their care, in order to provide the best possible outcome for the children.
It's taken a pandemic to class these people as essential workers, and parents around the country see just how much their child's educators do to help their family thrive.
Toddle spoke to Harriet, a pre-school teacher with more than ten years of experience, and asked her to tell us all the ways that parents can support that relationship. 
Harriet shares the things that she, as an educator, would love for the parents of the children in her care to keep on doing.
1. Keep your child at home when they are unwell
One of the government's main directives to stop the spread of Coronavirus is to keep children home when they're sick. Harriet explains that she understands that it is tricky for parents, as children seem to have runny noses and on-again off-again coughs all the time.
'We get it, you have to work and it can be hard to take leave every time your child is ill,' explains Harriet. 'Many of us are parents too, so we totally understand.
But we love the fact that parents, on the whole, will keep their child at home when they've got an upset tummy, or a fever, or a mysterious rash. 
It makes such a difference to the health of our educators and of course the other children.' 
2. Send healthy nutritious lunches
'The link between healthy nutritious food and behaviour is undeniable,' states Harriet. 
'Kids that have a wide variety of fresh healthy food in their lunchbox are going to be more open to learning after eating than a child that has eaten a lot of sugary or processed foods. 
Most parents are really switched on in this regard, with many sending homemade muffins, veggie sticks, cheese and crackers, chopped up fruit and salad sandwiches. 
They're also very mindful of avoiding allergenic foods such as nuts. It makes us so happy to see that.'
3. Get involved if you can 
'We rely on the support of parents to run our pre-school,' says Harriet. 
'Developing a supportive partnership with the preschool means getting involved in any way you can. 
That might be by becoming a part of the preschool's parent/fundraising committee or coming into the preschool to share your skills such as music, yoga or gardening. 
It can even mean just providing feedback on observations and goals set for your child, so we can develop a program that is relevant to the children in our care.'
4. Be on time for pick up  
'Ensuring your child is picked up on time makes us feel valued and understood,' shares Harriet. 
'It helps us feel that you as a parent recognise that educators have their own families and life outside of work. 
Yes we love our jobs and we understand that the unexpected can happen, but we too need to get home at the end of the day to our homes and families.
It's also hard for little ones to wait when they are tired and ready to go home.'
5. Instil a sense of responsibility in your child
'We love seeing our little pre-schoolers become more independent as they get ready to start school,' says Harriet. 
'Parents can assist with this by encouraging and supporting the children to unpack and put away their own belongings at arrival and departure. 
It also comes from ensuring that the child has tidied up the activity they had been taking part in before leaving for the day.'
6. Trust the advice of educators 
'We spend a lot of time with your child, and have cared for lots of children over the years,' explains Harriet. 'That means we can see patterns of behaviour or traits that become a sort of red flag to us. 
When an educator suggests something to you in the form of early intervention, you should trust that we have your child's best interests at heart. 
Know that we mean well when we suggest that you seek further assessments or external support from therapists such as speech or occupational therapy if needed.' 
7. Recognise and value early childhood education
'Most of the parents that I see really do value the care that we give at a fundamentally important stage of a child's life,' says Harriet. 
'They know that we are not just babysitting the children, and that we spend a lot of time planning our programs and ensuring that goals are achieved throughout the year. 
For us as educators, it feels good when a parent acknowledges that we are doing a good job. When a parent mentions that their child has had some little success or overcome an obstacle because of something that we have taught them, well that feels amazing.'   
---
---
7 things child care educators would love parents to keep doing