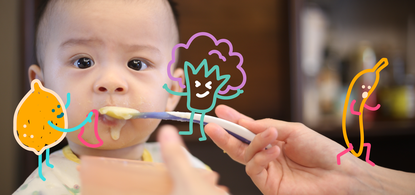 With child care centres providing many of your little one's meals and snacks each day, it's comforting to know how much pride they take in their work.
We spoke to Brittney Imber, the Centre Manager of Papilio Early Learning Bruce in Canberra to find out exactly what goes into the baby food at her centre.
Does your centre cook baby food from scratch for the Nursery children?
'Yes, we always have a variety of puree options for our Nursery children,' says Brittney. 'We strive to create meals with the most nutritional value possible which is why we make an effort to make all meals, including our puree, from scratch.'
Not only is it nutritionally beneficial to cook from scratch where possible, it's also much more economical. It reduces the need for packaging as well.
Why do you think it's better to cook your own baby food rather than use commercial brands?
'Our centre proudly provides meals that adhere to the Australian Dietary Guidelines,' shares Brittney. 'This includes generous serves of fruit, vegetables, protein, carbohydrates and calcium! 
By creating our own delicious menu, we can also support children with varied allergies and other dietary requirements.'
How do you encourage little ones to try new tastes and flavours?
'Encouraging children to try new foods definitely isn't easy,' explains Brittney. 'We have found that being consistent in introducing our children to new ingredients and recipes helps to normalise the concept of new foods. 
We try to expose our children to as many different food groups, ingredients, tastes and textures as we possibly can!'
What are the babies favourite purees at your centre?
'The favourites in our service at the moment would have to be red lentil and brown rice, and pumpkin and broccoli,' says Brittney. 
'Yummy, hearty and warm – perfect for these cold winter months.'
Could you share the red lentil and brown rice recipe with us?
Ingredients
1 cup of red lentils (soaked)
1 cup of brown rice
4 cups of water
Method
Combine rice and water in a saucepan and cook at high heat for 15 minutes. Add red lentils.
Cook until rice is fluffy.
Puree the rice and lentils with a stick blender.
What is your centre's 4 step process for preparing puree?
'Wash, chop, boil and blend!' says Brittney. You can make anything with this method, and you'll be exposing your baby to a wide variety of flavours if you choose fresh seasonal ingredients. 
Cook things that your family likes to eat so that your little one gets used to the taste of food that they will enjoy in their family meal when they grow up.
Any advice for parents about to embark on feeding solids to their little one?
'We love the process of baby-led weaning partnered with puree and self-spoon-feeding,' explains Brittney.
'We encourage our families to introduce children to a range of finger foods and allow them to use their hands to explore the food.'
Brittney's tips: 
Remember to remove the skin or the peel of the fruit and vegetables as it makes the foods easier to eat.
Don't forget to cut grape-sized foods into quarters and avoid popcorn and frankfurts!
Stick to soft foods that their little gums can easily pull apart.
Toddle makes it easier to find child care for your little one. Simply type your postcode in the search bar at the top of the page to get started. You can read more about Papilio Early Learning Bruce here.
---
---
How your child care centre makes delicious food for babies in four easy steps