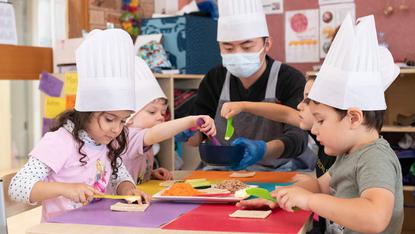 Cooking with children is a fun and effective way for them to learn new skills and spend time connecting with their parent or carer, and it can also encourage kids to try new foods. Cooking involves many components that naturally provide education opportunities such as being introduced to mathematical concepts, practicing fine motor skills, and learning to be patient and follow instructions.
Because kids are very curious and adventurous, cooking with kids can quickly feel overwhelming for the person supervising - so to make it easier we've compiled some ideas to make cooking with kids fun and stress-free, and tips on how to get them involved with this valuable activity.
Keep it simple
To begin with, and especially while children are younger, it's best to stick with basic cooking activities. This won't impact the benefit to kids, because there are so many skills to master (what we consider to be easy takes time for kids to learn), and kids always find a way to make things interesting!
Whether cooking or baking with kids try to find simple recipes that don't use too many ingredients, and don't require complicated steps: you don't want to be trying to concentrate on following difficult instructions while supervising your child, and you also want them to be able to join in easily.
Here are some simple recipe ideas that you and your child can achieve together:
Scones
Homemade pizza
Hummus dip
Pancakes
Salad
Keep it short
Children can focus for limited amounts of time so keep cooking activities to short sessions to maximise concentration and prevent meltdowns. It may seem second nature to us, but for children concentrating on tasks such as measuring, stirring, and cracking eggs takes immense concentration – these tasks can cause kids to burn out quickly which can lead to frustration and difficult behaviour. Choose recipes that have a short preparation time, and if you want to attempt a longer recipe you could try breaking it up into small tasks that your child can complete in stages with breaks as necessary.
How to encourage involvement
Getting kids involved with cooking is beneficial for the reasons we've already discussed, and it can also help to boost self esteem as it engages kids in meaningful work.
Most children will be excited to try cooking, but to get them interested and to keep them motivated it can help to think of ways to make cooking appealing and relatable. Letting your child pick the recipe you'll work on together is a good place to start, as it will give them a sense of control and motivate them to see the activity through – to do this, select a few appropriate recipes (using the tips above) and let them choose the one they'd like to make.
Children also love to feel useful, so once you've picked a suitable recipe, find specific jobs for your child that are achievable for their skill-level, so that they can feel accomplished on completing the tasks.
Something else to consider when getting kids involved in cooking is having a vegie bed that you can grow food to harvest and use in cooking. When kids watch the food grow from seeds or seedlings, they are excited by the process and eager to use something they've grown in the kitchen- and to taste it afterwards.
Tips for a smooth experience
Things can quickly get hectic in the kitchen, so to make the experience enjoyable and productive for you both it helps to be as prepared as possible, and have realistic expectations of yourself and your child.  
Here are some tips for a smooth and fun cooking experience:
Allow plenty of time - tasks with kids take longer than doing it alone, so make sure you're realistic about how long it'll take to prevent stress
Begin with a clean kitchen/cooking area - cooking with kids usually gets a bit messy, and you don't want to be adding to pre-existing mess as it can become overwhelming
Have child-friendly cooking equipment, such as a kid-safe cutting knife, small chopping board and plastic bowls and measuring cups that can't be easily broken
Let your child lick the bowl while you quickly clean up mess that can spread, such as spilled flour or eggs
Practice - as much as cooking takes practice for kids, cooking with kids takes practice for adults! Keep going and you'll soon find a working rhythm together
With these tips for cooking with kids and getting them involved, cooking will soon become a favourite activity. Remember that kids are often more capable than we think, so give them as much responsibility as possible and you'll see all the ways these skills benefit them in the kitchen and beyond.  
Childcare can help teach kids valuable skills such as cooking, so search Toddle – the most comprehensive childcare search database in Australia - to find an approved childcare centre near you. 
---
---
Tips for Cooking with Kids and Getting Them Involved