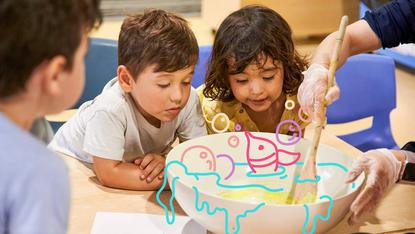 Baking is an activity that kids love, and it comes with many benefits besides the delicious end product - kids begin to learn the essential life skill of baking, and are introduced to concepts such as mathematics and science. Baking also requires kids to have patience and follow instructions, and is an opportunity to practice fine motor skills with a variety of baking techniques. If they appear to have a particular talent for baking, you could even help them get a business started selling their baked goods. To make baking with children easy and fun, we've selected some no-fuss, delicious recipes and baking ideas for kids.
Chewy Anzac biscuits
Anzacs are a biscuit staple (and significant to Australian history), and this recipe guarantees they'll also become a staple in your home. With a crunchy golden outside and a soft, chewy centre filled with the goodness of oats, these Anzac biscuits are a nutritious treat the whole family will enjoy.   
Ingredients:
½ cup flour
½ cup desiccated coconut
¾ cup rolled oats
¼ cup sugar
½ tsp. baking soda
50g butter
1 tbsp. golden syrup
Method:
Mix all the dry ingredients in a large baking bowl.
Melt the butter in a saucepan, then take off the heat and add golden syrup, stirring to combine.
Add the butter mix to the dry ingredients, and stir.
4Make the biscuit mix into small balls (use a teaspoon to measure each one), and place on a baking tray. Get your child to give each ball a gentle press down with a fork.
Bake for 8-10 mins until golden brown and soft in the middle, or longer for more crunch.   
Scones
Scones are a delicious, filling and easy afternoon tea idea, that kids will enjoy making and love eating with plenty of cream and jam. Scones use only a few ingredients, that you're likely to have in the house, and teach kids foundational baking skills. Find a traditional recipe online, or try these savoury bacon and cheese scones (breakfast ideas for kids article) for a savoury twist.
Tuna pasta bake
Fish is a healthy part of a well-rounded diet, and is especially important for growing minds and bodies as it is rich in essential omega -3 fatty acids. With its milder flavour, tuna fish is a good place to start when introducing fish, and mixed into this tasty pasta bake your children are sure to enjoy eating it. Have your child help to prepare the vegies, stir the white sauce and taste-test along the way, and bake in the oven for a comforting and nutritious meal with an irresistible golden topping.
This recipe is simple and delicious and uses many canned ingredients you can find in your cupboard, making it a perfect end-of-week meal choice.
Ingredients:
400g dried pasta
3 tbsp. butter
1 onion, diced
1/3 cup plain flour
2 ½ cups milk
2 ½ cups cheddar cheese, grated and firmly packed
320-400g tinned tuna
330g canned sweetcorn
1 cup frozen peas
Handful of chopped parsley (optional)
Method:
Preheat the oven to 180 degrees C, and cook the pasta as per instructions on packet.
Melt the butter in a pan, and add onion and cook until onion is soft and translucent.
Turn up the heat and stir in the flour, then cook for 1-2 minutes. Slowly stir in the milk, and once it's all incorporated continue stirring until the sauce begins to thicken.
Stir in 2/3 of the cheese until melted, season with salt and pepper and take off the heat.
Drain the pasta and pour into a large baking dish. Pour in the white sauce, sweetcorn, peas and a pinch of parsley, and mix. Add in tuna last so that it doesn't become mushy, and once everything is combined, sprinkle on remaining cheese.
Bake in the oven for 15-20 minutes or until golden-brown on top. Serve with salad and a sprinkle of parsley.
Easy banana cake
Baking cakes is a great place to start kids on their baking journey, and this simple recipe means that children will quickly master baking skills and gradually become confident to make it independently as they get older. Having a delicious and easy banana cake recipe up your sleeve is also perfect for using up old bananas – if you have bananas going too brown to be enjoyed by the kids, you can keep them in the freezer until you're ready to make banana cake.
Ingredients:
125g butter
¾ cup caster sugar
1 tsp. vanilla essence
1 egg
2 ripe bananas, mashed
1 ½ cups self-raising flour
¼ cup milk
Method:
Melt butter, sugar and vanilla in a medium saucepan, then remove from the heat.
Add mashed bananas and stir 'til combined.
Add egg and mix well. Stir in flour, then pour in milk and gently fold until just combined.
Bake for 40 minutes or until a kitchen skewer poked into the centre of the cake comes out clean.  
Muffins
Muffins are a favourite among children- after all, they're basically mini cakes! Muffins are also very versatile, and can be adapted to suit all diets, flavour preferences and occasions. You can try making healthy muffins for a breakfast alternative, savoury muffins for a snack option, and sweet muffins for a delicious treat.
Encourage children to be involved in meal preparation and making foods they love with these recipes and baking ideas for kids, and watch as they develop independence and their self esteem is boosted through learning new skills.  
Children can also learn many life skills in childcare, where activities like baking are often incorporated into the program; to find an approved Australian childcare centre close to you use Toddle, a comprehensive childcare centre search service. 
---
---