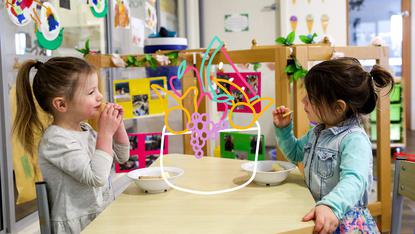 The afternoon is often when kids get the most hungry - they've been busy playing, learning and exercising all day and now they're ravenous! You want the food you offer your children to be appealing and keep them happy and satisfied until dinner time, but it's also the time of day when things can get a little busy - we've got you covered with these easy, healthy afternoon tea ideas for kids that will tick all the boxes. Choose one, or a few of these ideas, and make the afternoons stress-free and happy for you and the kids. If you want some ideas for keeping them entertained while you get the dinner on, check out these top activities for kids at home.
Oat and banana muffins recipe
These banana muffins are an easy afternoon tea idea for kids because they're quick to make, naturally sweetened, filling and delicious. Have them on the table within 30 minutes, or make a big batch and freeze (makes 12 muffins).
Ingredients
4 tbsp. melted butter, coconut oil or olive oil
1/3 cup maple syrup or honey
2 eggs, lightly whisked
3 bananas, mashed (approx. 1 full cup)
¼ cup milk of your choice
1 tsp. vanilla extract
1 ½ tsp. cinnamon
1 tsp. baking powder
½ tsp. salt
1 ½ cups whole wheat flour
Method
Preheat the oven to 180 degrees C, and grease a 12-cup muffin tin.
Add the melted butter, maple syrup or honey, mashed banana, milk, eggs and vanilla to the bowl and whisk to combine. Whisk in the cinnamon, baking powder and salt until well combined.
Add the flour, and gently fold in until just combined- do not overmix or the muffins won't be fluffy.
Spoon the batter into prepared muffin tin, and sprinkle with extra cinnamon.
Bake for 15-20 minutes, or until golden brown and the centre springs back when pressed. Cool muffins in the pan for 5 minutes, then enjoy!
Chocolate chia bliss balls
These bliss balls are a delicious fudgy chocolate treat, but with a twist- they are healthy and nutritious! They come packed with goodness: chia seeds are a tiny superfood that contains protein, healthy fats, carbohydrates, and minerals and fibre to give your kids long-lasting energy; they're naturally sweetened; and the nuts will keep kids feeling satisfied. They're also very quick and easy to make, and only require 5 ingredients that can easily be substituted to accommodate allergies or preferences.
Ingredients
225g dates
85g chia seeds
55g raw almonds (or cashews, walnuts, pecans)
3 tbsp. cocoa
Pinch of salt (optional)
Method
Add all the ingredients to your food processor and blitz for 2 minutes, stopping to scrape the sides if necessary. This should form a dough-like consistency, and if this isn't achieved try adding water or coconut oil, a teaspoon at a time, until the right consistency is reached.
Coat your hands in oil and scoop the mix out onto a clean surface, folding into one lump.
Roll the dough into 1 ½ inch balls, using an oiled spoon to portion.
Put into the fridge for 30 minutes until firm, then store in an airtight container and consume within 3 days (or freeze).
Peanut butter boats
Celery contains essential vitamins and minerals, peanut butter is full of protein and healthy fats, and serving these two foods together in a fun boat increases appeal. If necessary, substitute peanut butter with almond or cashew butter.
Simple cut celery into 6-inch stalks, and fill the concave inside with peanut butter (tip: you can buy 100% peanut butter at the supermarket in the health food section).
Hummus dip and vegies
Another easy and healthy afternoon tea idea is hummus dip and veggies. Hummus is filled with protein and nutrients from chickpeas, and dipping chopped vegies into a delicious dip encourages kids to eat them. Slice up your child's favourite veggies such as cucumber, carrot, celery and snow peas, and serve with shop-bought or homemade hummus dip. Add some sliced wholemeal wraps for added carbohydrates, to keep your kids full.
Kale chips
Kale is classed as a superfood because it contains high levels of vitamins A, C and K – just one cup provides over your daily intake of these essential vitamins! It is also a great source of antioxidants, fibre and minerals. Turning this slightly bitter and stringy vegetable into healthy chips is a sure way to get all these amazing nutrients into your child, because they will love this crispy, tasty snack. Hint: if your child finds it challenging to try new foods, check out these tips (https://toddle.com.au/thecorkboard/try-new-foods ) 
Ingredients
1 bunch kale
1 tbsp olive oil
1 tsp salt.
Method
Preheat your oven to 175 degrees C, and line a baking tray with baking paper.
Cut the leaves off the thick kale stems, tear kale into bite-size pieces and wash thoroughly.
Spread onto a baking tray, drizzle with olive oil and sprinkle with the salt, and bake for around 10 minutes, or until the edges look brown and crispy but not burnt. Be careful not to forget them, as they do burn quickly!
Cool and enjoy. Keep in an airtight container and consume while still crispy.
Hopefully, now we've made things easy, afternoon tea ideas for kids will no longer be a problem and you can enjoy your time together after a busy day.
For another way to make your life easier, check out toddle.com.au for all your child care centre needs - as the biggest database of childcare centres in Australia, you'll find the perfect match for your family.
---
---
Afternoon Tea Ideas for Kids - Healthy & Easy Ideas