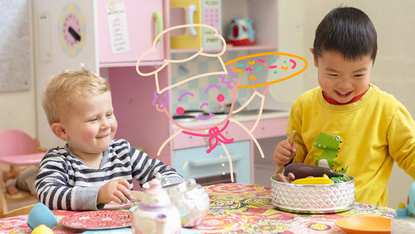 The days are long, but the years are short: this rings true for all parents, but especially parents of toddlers. By being prepared with a few activities up your sleeve, you can fill the day with fun, keeping everyone happy.
Having some practical, inexpensive and engaging activities for toddlers at hand can help the day run smoothly for both of you, and make sure you're getting in a good balance of household responsibilities, quality time together, structured play, and independent play.
Here are some activities for toddlers that can be easily adjusted according to your child's age and family preferences.  
Household chores as toddler activities
Although adults don't usually view sweeping, washing and cleaning with great excitement, these tasks make excellent activities for toddlers. Whatever you're trying to get done, including your child helps them to feel important and accomplished, begins to teach them important life skills, and keeps them productively engaged.  
Children from age 1-3 can begin helping with chores such as sweeping the floor, putting clothes in the washing basket, passing the pegs to an adult to hang washing on the line, and helping to pack toys away after an activity.
The same goes for meal preparation and baking - toddlers are fascinated by the process and the chance to taste test. As a bonus, it can inspire them to eat the food they helped to make. Let your child collect the ingredients from the fridge or pantry, pour measured flour into the bowl, stir the mixture and grease the muffin tins.
Structured play activities
Setting up activities that your child can complete with or without you, depending on their age and capabilities, gives them a beginning and direction for play while also allowing the opportunity for creativity and independence.
Painting is one of these activities -  it's fun for your toddler, helps them to practice motor skills and hand-eye coordination, and is relatively fuss-free. Set your child up outside, or inside with something to protect your table and chairs, put an apron or old clothes on them, provide some paints (make sure they're washable) and let them go for it!
You can also set up a scene with toys, such as a farm or a fairy garden, or build a cubby house with chairs and tablecloths and see what they make of it, even if it's just knocking it down. And when in doubt, get the water out! Helping with dishes, watering the garden, or even a daytime bath with some plastic toys: water never fails to mesmerise and entertain toddlers.
Activities for quality time together
Quality time together is important for strengthening your connection with your toddler, and quality is the key; it doesn't have to be for long, but spending those attentive moments with your child shows that they are important to you, and helps them to feel content to play independently when you're busy.  
Some uncomplicated and enjoyable activities to try at home with your toddler:
Reading books  -  children love snuggling up and listening to you tell stories, it promotes bonding while also stimulating their imagination and vocabulary development.
Hide and seek - finding you, or one of their favourite toys, can absorb and entertain toddlers endlessly.
Put music or nursery rhymes on, and dance and sing together – they quickly learn to follow the words and accompanying actions.
Play with a ball - rolling, kicking or throwing a ball together outside or inside lets toddlers practice their coordination skills, and burns plenty of energy for an easier bedtime.
Independent play activities
Nurturing independent play benefits both parent and child: it's important for cognitive development, and also gives you a chance to get your own work done. Independent play can be encouraged at any age, but it is a skill that develops gradually so don't worry if it doesn't come easily at first - starting off with even 5-10 minutes has positive effects.
The idea is to let your child generate play on their own in a suitable environment, where you are still easily accessible; outside can be a good place to start as children are easily inspired simply by trees, rocks and insects, and play areas such as a sandpit, mud pit or mud kitchen. Indoors works too, in a safe play area with a range of toys and play props available.
And remember, it's not a bad thing if toddlers get bored. In fact, it helps foster creativity, imagination and problem-solving. 
If you're looking for child care for your little one, you're in the right place with Toddle. Simply enter your postcode in the search bar at the top of the page to find and compare child care centres in your area. You can read reviews, see pictures, even book a tour. 
---
---
Activities for Toddlers at Home: 1-3 Years