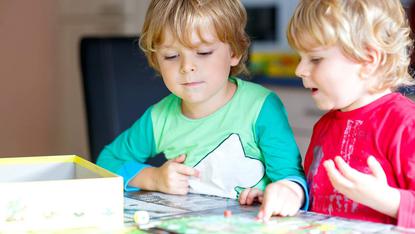 Children learn and connect through a wide variety of play modalities, and board games can be a wonderful way to keep kids entertained while providing many play benefits-  board games for kids are an opportunity to practice teamwork and collaboration, taking turns and patience, and to experience the excitement of winning (and build resilience through not always winning!). They also encourage the development of problem-solving, creative and analytical thinking, and are a great way to spend time together and connect with family members of all ages. To find the best board games for kids, we scoured reviews and came up with these winners for a range of ages and skill levels. These games can be found on Amazon, at Target, Big W or ToyWorld.
Orchard Toys Post Office Game - 2+
This is the perfect first game for young children, as it's simple, fun and introduces concepts of colour-matching and sorting in a relevant way- toddlers can practice one of their favourite pastimes, 'posting' objects! Set up the four colourful cardboard post boxes, then post the colourful letters (that are addressed to animals) into the matching postbox.
The Sneaky Snacky Squirrel Game - 3+
This game is lots of fun, and helps kids practice and develop hand-eye coordination, fine motor skills, and colour-matching. It also encourages turn-taking and strategic thinking, and provides an introduction to maths topics such as counting and numbers. The aim of the game is to use a Squirrel Squeezer to collect and store acorns, with the first to fill their log winning the game.  Each turn and the colour the child lands on determines what colour must be collected, leaving things up to chance as well as skill. 
Richard Scarry's Busytown Eye Found It - 4+
This game is a colourful, interactive, and collaborative discovery game where everyone can win, and since it's like an Eye-Spy game with a fun twist, all family members will be engaged and captivated. Join Lowly Worm and Huckle Cat as they search through Richard Scarry's world – including farm, seaport, airport - to find hidden objects. The aim is to make your way along the giant gameboard to get to Picnic Island before the pigs eat all the food! The faster objects are found, the faster you'll get there. It offers the opportunity for collaborative teamwork, with the chance to achieve individually or for a mutual goal.   
Trouble Game - 4+ 
Trouble is a classic board game to play as a family, as it's simple enough for younger children but complex enough for all family members to enjoy. Players compete to be the first to get four pieces around a board, each move determined by the roll of a die- which is another fun element of the game, as players press a plastic bubble in the middle of the board to roll the die (this prevents the dice being lost or disagreements over the result of the roll). Players can send another player's piece back to the start by landing on them, giving the game a fun competitive edge.
Scrabble junior - 5+
This version of classic Scrabble is suited to older children who are beginning to learn about words and spelling, as this can be a fun way to develop their skills in literacy, vocabulary and comprehension. Two levels of play make this game versatile and relevant for a long time; younger children can begin by matching letters with accompanying pictures, while older children can make up words independently with colours and counters. The aim is to reach the coloured squares by making words, which can be achieved with the helpful hints provided that prompt children to find the words in their tiles. 
Now that you're armed with some fun board games for kids that will bring entertainment to the whole family, choose the one that suits your family best and get playing; and try serving up some of these healthy afternoon snacks to give energy to all the busy players!
Childcare centres can also keep your children learning and playing all day, so use toddle.com.au to find child care near you that fits all of your requirements. 
---
---
The Best Board Games for Kids